News Details
Gozer goes to hell
In honor of Gozer, a good friend of the Preserve, who on this very day is getting married, we feature the astonishingly awesome and somewhat in poor taste Disturbance at Lars Homestead exclusive Star Wars set from Toys R Us!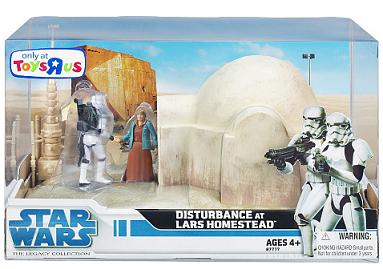 I haven't looked around the net too carefully, but it's not hard to imagine that at least several people have gotten this set and performed a few key modifications to make it a little closer to the shot of the 'disturbance' that we get to see in the movie, aka smoking charred human remains! Well, we know this would be the perfect present for Gozer for a variety of reasons, but since we were too cheap to get him something that his wife might make him throw away, this will virtually have to do. Congrats Gozer, and best of luck on a minimum of 'disturbances' at the homestead! Now I better get my tux on.
Posted by charlie on October 4th 2008, 08:37 AM
Leave Comment
Share
---
No comments have been posted.
---