News Details
GI Joe DVD Battles - The Revenge of Cobra
Got $20 in your pocket? Looking for one of the best buys in the toy aisle for your hard earned cash? Well, for our money we think it's hard to do better than the new GI Joe DVD Battles sets that have been in stores for about three months now. We certainly raved about these in the past, and with the new sets arriving at your local retailer currently we are reminded just how great they are! This set is especially cool to compare to
the demo that we saw
at Toy Fair 2008, which shows an earlier take on the box art and logo design. There is a backlog of awesome product around here, but we managed to post details on one of these sets - The Revenge of Cobra! (set 2 of 5).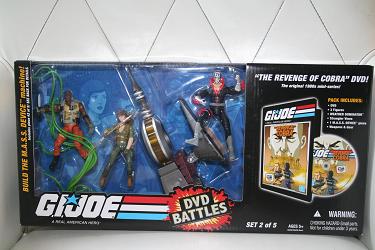 You get three figures, firstly, which is basically the price of admission given how spendy a single figure is these days. Throw in the Weather Dominator, a part of the build-a-M.A.S.S.-device, 'Strangler Vines' as well as a little thing called a DVD with a complete mini-series of episodes, and that $20 went a lot farther than two lunches at the place on the corner near your office - you know it to be true! Click the image above to see more glamor shots of this set, and then get yourself out to the store and get your own!
While initially selling out quickly back in July, the two sets from wave 1 have since been widely available in most stores, so hopefully you will have your pick of wave 1 and shortly wave 2. Do not be deceived, however, as the holidays are coming and you can expect these sets to not stick around long!
I'll fight my way out!
Posted by charlie on October 28th 2008, 09:03 AM
Leave Comment
Share
---
No comments have been posted.
---