Lego - Indiana Jones: Fight on the Flying Wing
One of the most memorable and cult-favorite scenes from the Indiana Jones films is the fight against the 'German Mechanic' on the Flying Wing aircraft that was set to smuggle the Ark away to Nazi hands. Indy took his licks against a massive pugilist, and as usual came out on top - with the help of the airplane prop! Click the image below for more shots of the packaging of the excellent Lego set that captures and immortalizes this scene - after all these years how great to have a German Mechanic lego figure!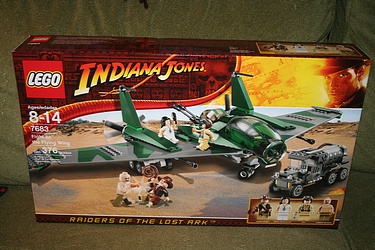 Posted by charlie on November 15th 2009, 07:05 PM
Share
---
theWife
November 16th, 10:57 AM

but there aren't any fezzes (apparently that is the plural form of that word, http://en.wikipedia.org/wiki/Fez_(hat)).
---
Leave a comment for this entry.