GI Joe 25th - Armored Cobra Commander
Charging forward on the front lines, Cobra Commander keeps his scaly hide intact with this amazing suit of Battle Armor, courtesy of Destro and his high tech armament facility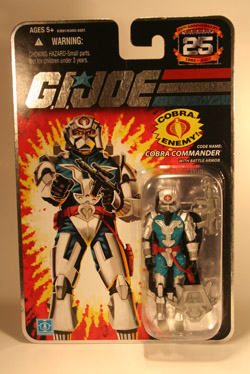 It's a pricey piece of equipment, so don't expect every last trooper to have one anytime soon, but it'll make sure the Commander is causing trouble for plenty of time to come.  
And with that, the GI Joe 25th Anniversary section is again up to date. We eagerly await wave 7 of the basic figures and wave 4 of the comic packs, not to mention the imminent Target exclusive vehicles!
Posted by charlie on March 18th 2008, 07:55 AM
Share
---
big danny d
March 25th

Supposedly there are two versions of the battle armor cobra commander, one with a battle damaged helmet, one with out. In addition wave 7 has been out ont he west coast for about a week now which is a good heads up for us. Check Out hisstank.com as they have a sightings thread that has a thread for each of the 50 states. FInally uncle gave me the (2) two packs you picked up for me, thanks a bunch, i gave him $22 bucks to give you so make sure you get that cash from him
---
Leave a comment for this entry.