Toy Fair - Lego: Agents 2.0
Ok Preserve readers, we've finally gotten a semblance of internet back, and are resuming work on the many fantastic galleries that we gathered up from Toy Fair! Going in rough chronological order, we're making our way through the Lego breakfast we had on Sunday morning, and have gotten the gallery of their
Agents 2.0 line
posted. Check it out!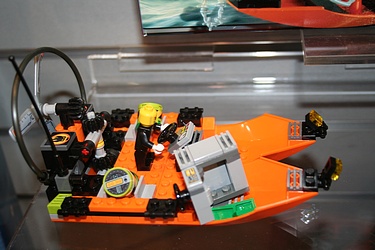 Posted by charlie on February 18th 2009, 06:00 PM
Share
---
doctorkent
February 18th, 10:06 PM

Sharks...with frickin laser beams on their heads! I love these sets, but I have no room for more Lego. Have you ever wished that the Preserve was dedicated to just one thing? Like you were Captain Atari, or Master Transformers instead of being so omnivorous with toys/games? I don't either, but curious.
cparry
February 18th, 10:40 PM

I often consider that indeed! I'm sure I'd have more coherent coverage, but less patchwork plush from France :-)
---
Leave a comment for this entry.