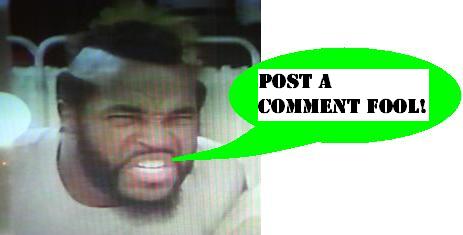 Take Me Out to the Ballgame Mr. T
We have some favorite people around here at the Preserve. Certainly everyone knows that Shatner is right on top of the list, but perhaps a very close second is everyone's childhood idol if you grew up in the '80s, Mr. T! News from EJ way out in Chicago this morning pointed us to a fantastic clip of the man himself, still looking like time has forgotten to set it's terrible hand upon him all these many years! What is T up to these days? Why, he is singing a heartfelt and ever bombastic rendition of 'Take me out to the ballgame' to the obvious delight of the fans and commentators!
Click the link
to check out his latest gift to the world or fast-forward the youtube video below to 1:27 for another version!
Posted by charlie on May 26th 2009, 08:33 PM

Share
---