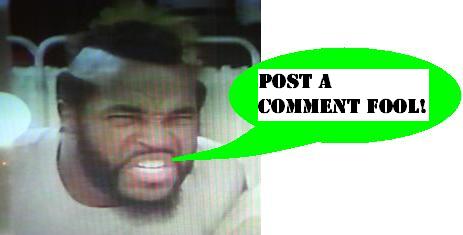 Transformers Generation 1 - Trailbreaker
It has been a while since I've read some of the Transformers bios. Honestly, it's been decades in some cases...I find that I'm very familiar with ones like
Ramjet
because he's been re-released recently (and because he's self-explanatory...) and they kept the text, or at least the basic personality, similar but for Bots who haven't seen a recent updated version, their stories are covered with cobwebs and dust in my alleged brain.
So is the case with Trailbreaker - I had totally forgotten about his lack of self-esteem based around his low MPG! Especially topical these days it seems - surprising that anyone was thinking about that in 1984 but I guess fuel efficiency wasn't a big focus of mine then! Click the image for more shots of the box and the Autobot Strategist himself (without accessories so far) from the initial 1984 wave.
Also - I can tell this is one of my original sets thanks to the pristine Clover pricetag. Clover was a small chain of department stores around the Philadelphia suburbs which in the 1990s transformed into Kolhs, among other things. According to
wikipedia
, there were 26 stores, operated by Strawbridge & Clothier, which were apparently a blatant copy of Target! Guess that's why I found the bulls eye so comfortable when I discovered them years later. The Clover store at Center Square near the Plymouth Meeting Mall in PA was the source of many of the original Star Wars and Transformers figures which make up the Preserve, and the site of many happy memories with my Dad. A little
google maps
work shows a current-ish top view of the mall, and reveals that, even though Clover is long gone, to this day it is called the Clover Mall Shopping Center - cool!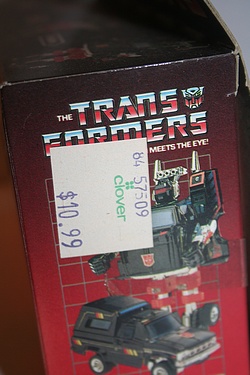 Ok, my trip down Philly memory lane yielded yet more interesting things, and youtube has come through (as usual) with an original
Clover TV spot
, featuring a smokeless ashtray (!) and a bunch of strange nail-care products. In the 'suggestions' list from that was a bit for
Kiddie City
, and I have to point everyone towards the part with the quite-young-looking (I guess I'm just old now) Moms waving around a beautiful boxed Omega Supreme! I totally remember that specific ad from back in the day, though it's only now with the passage of time that seeing that giant Transformer held aloft is particularly noteworthy.
Posted by charlie on August 6th 2010, 06:25 AM

Share
---