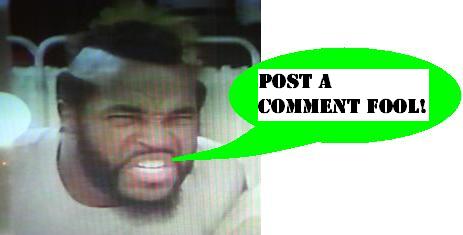 Star Wars: The Vintage Collection - Boba Fett
This year, Hasbro is directly targeting the nostalgia center of the brains of long time toy collectors. Since that comprises about 90% of the space between my ears, it's sort of an unfair tactic, but for someone in the business of doing business, it's quite brilliant. The
Star Wars: The Vintage Collection
line kicked off only several weeks ago, and most of you doing current toy runs have probably seen the familiar-from-1981 cardbacks thinning on pegs across the aisle from the sagging excess that is the
Hunt for the Decepticons
line.
First seen
at Toy Fair back in February, these cards are yanked directly out of the early '80s, while the figures sport the best of what materials science and barely-paid labor have been able to give us in the years since then - ie. really good looking figures. Wave 1 is almost entirely made up of characters that were offered in that packaging originally (ok, not Dack Ralter or, I believe, this Han version). But as this line continues (and who knows how long it will go) they plan to put characters from all corners of the franchise on these classic cards. Now, being the 'purist' that I am, I'm not particularly down with a 'Commander Cody' or General Grievous on such hallowed card stock for my own collection, but I will admit that it's not a bad idea.
Of additional awesomeness? There is a mail-away involved! Buy five figures, and you can send away for a missile-firing Fett. What's cool about that? This feature-Fett was an offered mail-away back when the line was originally sold, but never materialized. At the time a young boy was jilted out of his coveted toy, and apparently spent the intervening 30 years rising through the ranks of business and the of toy industry, and is now a high ranking Hasbro official. With this new power, what has he done? He's finally getting his missile-firing Fett, that's what! I'm so impressed by that singleness of purpose and fanatical devotion - good job sir! Based on that story alone, I'm required to get one of these Fett figures, so I'm in for at least 5 of the vintage line. After 5? Well, that's usually past a tipping point of some sort, so we will see!
So the first figure to join the Preserve archives? Well, sort of ironically Boba Fett is part of wave 1 along with being the mail-away (which differs by the action feature) so I snagged him first. Not too much more to say about all this, so click the image to see a few more angles of figure #VC09 from Hasbro's rewind into awesomeness.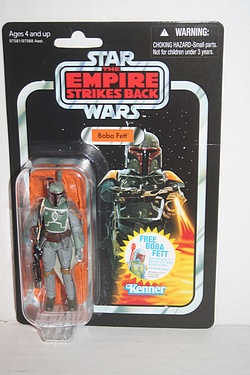 Collector Note:
eBay seems to think that the stickers on some cards, offering the mail-away, had a typo of 'Bobba Fett'. I've not seen any, but I suppose you can keep a sharp eye out if you're into that sort of thing!
Posted by charlie on August 19th 2010, 06:59 AM

Share
---