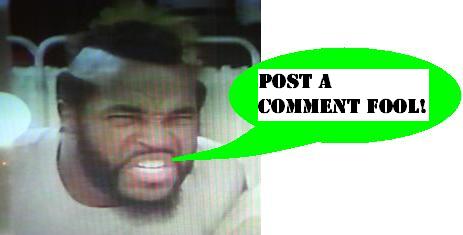 Tank Mallrats
It is an admission that I find difficult to make, but I have never listened to the commentary track for one of my favorite movies,
Mallrats
. Being as I am on the excellent Captain Power mailing list, I just learned something very interesting and disappointing all at the same time!
Most readers of this site probably know that
Sven-Ole Thorsen
played the role of La Fours, the security guard nemesis. You may also remember that Thorsen was a key part of one of the favorite TV shows and toy lines around the Preserve, which is none other than
Captain Power
, where he was of course Tank.
Apparently, during the commentary, Jason Mewes tries to point out this very fact, but can't quite remember the name of the show, managing only the 'Captain' part. Kevin Smith suggests he's trying to remember 'Captain Planet' and they move on with little further discussion about it. Kevin - so disappointing! Jason - so close to awesome! I think that perhaps it's long past time for me to check out that commentary track, so I can be righteously indignant first-hand.
For those of you looking for a fun eBay Watch, here is some dude trying to sell
a complete collection of Sega 32x games
for $5000. I pretty much hope he doesn't get it, because then 32x games will become immediately unaffordable! Still, it is fun to see the picture of them all.
Posted by charlie on April 26th 2007

Share
---