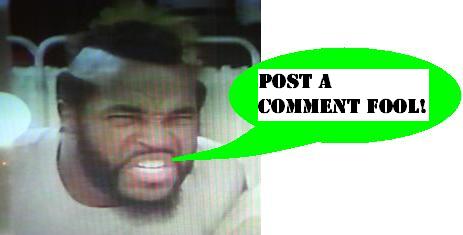 Mr. T Contracts with Galoob, July 1983
My new foray into the fascinating and wildly informative world of archival trade publications from the toy industry continues to turn up shiny shiny pearls. Today I was flipping through the newly arrived issue of Playthings magazine from June 1983, and saw a simply fantastic image: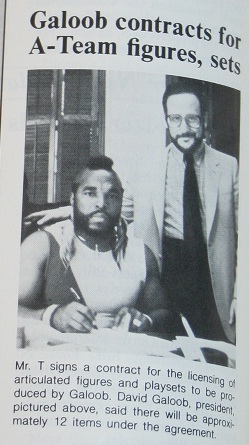 There we have Mr. T pictured with David Galoob, president of Galoob, as the contract to produce the A-Team action figures was signed! I have to imagine this is an image not many people have ever seen, since the subscribers to this publication filed their issues away either in the trash or (thank you!) in the cabinet to be sold to me 27 years later! Click the image for a larger shot of the page on which it was found.
Also, because everyone knows that I dig a cool coincidence, eBay has just shown me an ongoing listing for a complete set of the
1983 Galoob A-Team line
, complete with a duplicate Murdock figure autographed by Dwight Schultz!! Buy it now for $1,199,99...!
Posted by charlie on September 29th 2010, 05:26 PM

Share
---