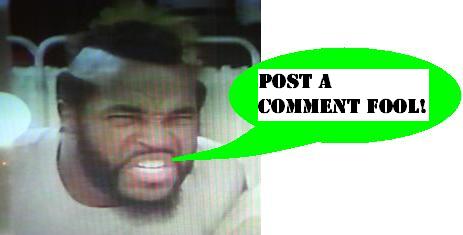 Claw Machine Busters
When I was younger, I was probably what one would call a mallrat. I didn't drive, didn't have a car, and the Willow Grove Mall outside Philadelphia was close enough for my friend Ryan and I to walk there from his house. Having a White Castle on the way didn't hurt either - oh the joy and folly of youth. As Kevin Smith admonished in what I still feel is his
finest work
, I wasn't there to shop, I wasn't there to work, I was just there. I've never had much of a shopping agenda, either then or now, but I do know my primary agenda: to hang out in the arcade - Challenges.
I've mentioned Challenges before, as it played such a huge part in my youth and was one of the few out-of-the-house places I actually was comfortable and enjoyed. It was a busy place, as arcades were in the late 80s / early 90s, until it suffered the fate of so many fine establishments and became a 'family fun center' with the ticket dispensers, brighter lights, and a generally cleaner feel. Disaster, I tell you! Before that ignominious end descended upon the place, however, the owners did manage to do right by us gamers, and kept a constant parade of the best new hardware marching in the door on a weekly basis.
Now, everyone knows that claw machines are somewhat of a chump's game. The prizes really are worthless, the controls are janky, and the claws are so limp that it's something of an astonishing surprise when you get anything in the chute. Only once did I get hooked on the Clean Sweep machine at Challenges (have to love the chase-pattern lightbulbs) and managed to coax big and little matching red dolphins out of the machine. How much time and how much money it took, and why I did so, are all mysteries best left to the ages.
While I still idly glance at claw machines all the years since my time at Challenges, and am glad that at least one vestige of a proper arcade still somehow fits in with the location plans of the dwindling operators who score Walmart, Service Area or BJs contracts, I have never been tempted to drop a single quarter in these many years. Never, that is, until last night.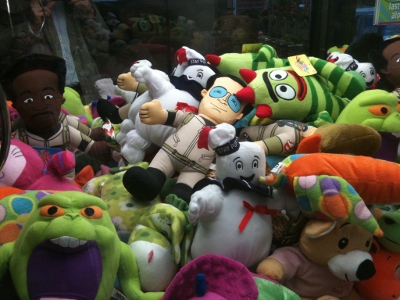 I suppose it's a testimony to the distinctive character design of Slimer that he caught my eye as I was fleeing the store after my toyrun. I stopped long enough to ponder 'wow, a rip off Slimer - I think Aykroyd's gonna sue somebody'. But imagine the whiplash double-take I did when I saw the tan flight suit and perfect blue-shaded eye glasses. And then a glasses-less face with a big smirk. And then the cool chillin' eyes and mustache of Mr. Hudson himself! Yes, in fact all four of 'the boys in gray' are there, slugging it out with the far lesser offerings to be had in the machine. They are sitting on top. They are taunting me so badly. I knew that I couldn't start - that $0.25 (well, $0.50 now it seems) would definitely be the top of a very slippery slope. But I can't say I'm not tempted, and likely, to lose my resolve during the next toyrun.
So - nice work, claw machine operator. You have tapped directly into my cortext, and found the thing that would be most pleasing to me, and then put it in my path. I'm sure you will get my money, and hopefully your success will serve as an example to others. Heck, maybe you'll reinvest some of your forthcoming thousands and get Walmart to allow a pinball machine on your route! We can dream, can't we?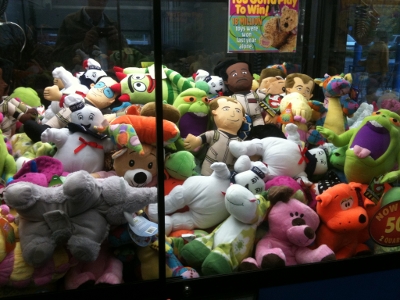 Posted by charlie on September 20th 2011, 07:16 AM

Share
---