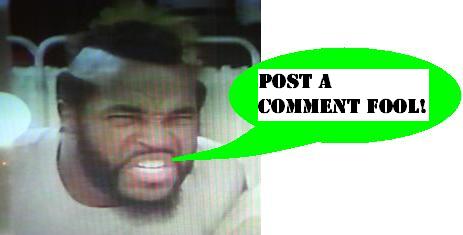 Toy Fair 2012 - Almost Here!
Can you believe that it's almost time for another Toy Fair?! I sure can't - and I had better get my act together around here and start getting geared up for it! Thankfully I've been with-it enough off and on for the past few months to secure meetings and interviews with the companies we all want to learn about this time of year: Hasbro, Mattel, Lego, Bandai, Mezco Toyz, Jazwares, Zombie Zoo, Planetary Pals - all the greats!
What served as a very timely and welcome reminder of just how imminent is the show were the arrival of our badges to the Lego event. Always held at the crack of dawn on Sunday, before the show gets underway for the opening day, this event is something of a tradition among the toy press, and is always a hilarious combination of fatigue, hangover and regret, tempered with the excitement of seeing some new product and chatting with the reps and 'master builders' I only get to see once a year. I'm especially amused that the badge this year (which I BETTER NOT FORGET) pays direct homage to this outlandish hour, and promises a reward for our early diligence!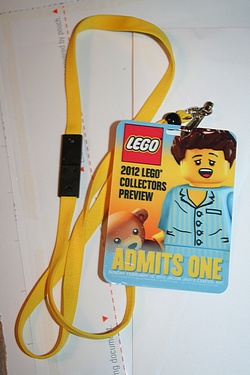 The back of the badge is where the action really is, with two bricks actually glued in place, ready to accept the two exclusive, sneak peek figures that we will get on that day! I'm crossing my fingers for Harley Quinn and Gimli, but I won't hold my breath!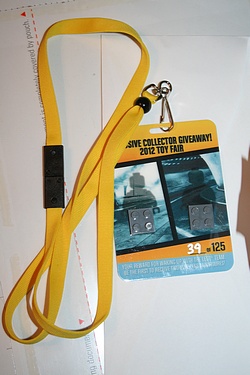 Posted by charlie on February 7th 2012, 09:42 PM

Share
---