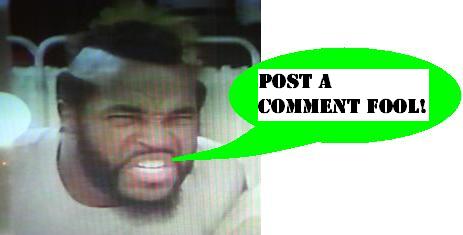 Ultimate Bumblebee revealed
As promised so it is delivered, here is the page on the newly released
Ultimate Bumblebee
figure, from the
Transformers Movie Line 2007
. While I've never purchased, played with, or even seen much footage of one in action, it seems as if this figure draws heavily from the RoboSapien methodology of recent times (here is one with a
flamethrower
, and here is one that is a
pimp
), but someone really kicked it up a notch by figuring out how to get it to transform into that slick 2008 Camaro.
I have to admit that, much like the Alternators, transforming this beast took me nearly an hour! I really have to imagine that none of these things are intended for kids any longer, and not really even intended for adults - more like they want someone to buy two and keep one in each mode. Now, maybe I'm just sort of 'slow' in terms of working modern day tech, but it really is a procedure, dancing on the edge of breaking any number of the pieces of one's new $85 toy, to coax it between configurations. But, enough complaining, here's the figure, all packaged up and looking nice: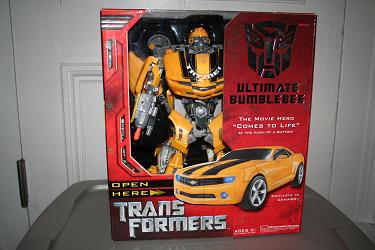 As always, clicking on that image will take you to the expanded page view, and additional pictures and words. I think one of the most surprising things for me, once I had struggled to get all the 'moving parts' correctly installed, as they don't come as such out of the box, was that it burst into a rendition of Devo's "Whip It" and started to dance around. I'll admit that's the first time I've seen a Transformer do that. It also will "aim" and fire it's "plasma cannon" which consists of a large orange dart, though sadly it failed to discharge when I hit the specified button. Now that I have it into car mode, I think the game is up, and I won't be seeing the robot for some time!
Posted by charlie on August 16th 2007

Share
---