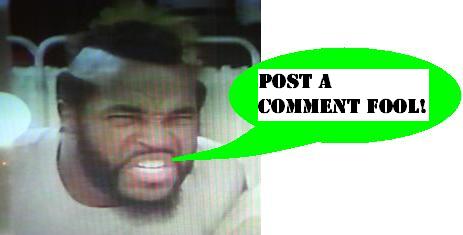 GI Joe - Rescue Doc!
It is a nearly unforgivable offense that the Preserve managed to rescue Doc over a month ago, but so much time has slipped quickly by before he was featured here in image and word. Well, wait no longer for the gallery of this fantastic mail-away exclusive is now up and running! Click the image for more pics and a great bio.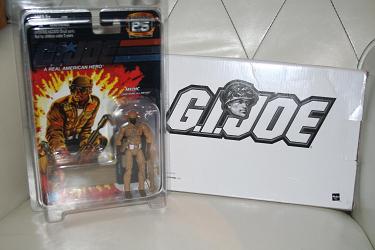 That awesome white box with 'GI Joe' proudly emblazoned on the side is precisely how the figure traverses our fine US Postal System. I was delighted that no effort is made to conceal the item, so that all involved in its route, from fulfillment center, through tired mail clerk, and at last to your door, may be in no doubt of your patriotism and dedication. Better still, the box was not even taped shut, secured solely by the small cardboard tabs on either end. Well, that and the surety of the crime against God and man that it would be to tamper with such good work. As expected, the proud vessel made it's way all the long and weary miles to Preserve HQ, with the contents safe inside.  
Inside of the cardboard, the plastic case that Hasbro was kind enough to include with the figure is really spectacular, and just exactly what this 25th Anniversary line is calling out for. It's like the 'star case' for the Star Wars collectors, but with a star and a cobra logo on each of the two top pegs. Best thing is, it is the correct thickness for the packaged figures, unlike the chunky Star Cases that we've been using thus far, which more than double the storage requirements for carded figures. Unless we've suffered a tremendous oversight, these cases are not yet available for standard purchase, but when they are it will be a great day for the protecting needs of the carded GI Joe collector!  
As for the figure of Doc, he really lives up to the excitement. It's a great update of the figure, totally true to the original, even including the stretcher accessory! The only regret we have is that we didn't get two, because it seems a crime to open this, our only example, but equally a crime to not get to enjoy and, better still, photograph this figure further. We hold out hope that the massive order, augmented by FLAG Points, placed by the Uncle, will arrive shortly, and that one of those may be relegated to the opening pile. Hasbro has delivered a really smash success with their mail away offer for this already strong line, and we can only wait with anticipation to see what comes next!
Posted by charlie on May 21st 2008, 01:47 AM

Share
---