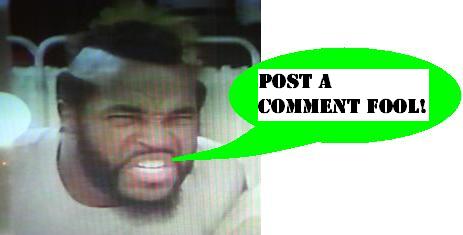 SDCC - End
The 2008 San Diego Comic Convention has finally wrapped up, and it was a fantastic time! While difficult to do everything with a small crew and vs the huge crowds, we managed to take in an amazing amount of content and information over the last 4.5 days, and saw a great number of new and newly released products on the shelves of our favorite manufacturers. The Preserve is taking a little extra vacation time in California now that the convention has finished, so will be back to a regular schedule after about another week (though we hope to stay daily even through the vacation, but the pics might be of burger joints and flamingos). We'll leave you today with a few more favorite pictures from the show, and will continue to work on building out the galleries soon.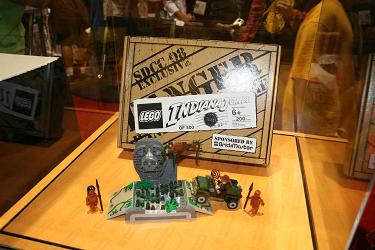 First let's check out the new, expanded Lego Indiana Jones special set that was available from the Lego booth. An expansion of their
Indiana Jones Brickmaster set #20004
that we've cataloged on the Preserve, this set was in very limited supply, and due to the astonishing demand for toy exclusives at the Con, they were forced to conduct a raffle every morning of the show. Since the production for this piece was 400 pieces, they would raffle off 100 pieces a day, and of course the line for the raffle was very long even at the crack of 9am! So, for now this picture will have to do.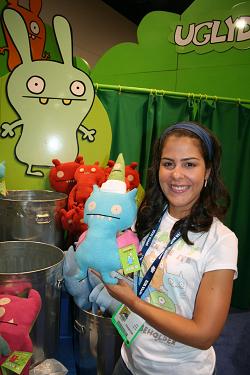 A company we always enjoy visiting at these shows is UglyDoll, as more long time readers will remember from the shows earlier this year. They had another fun and colorful booth set up, and their Ice Bat convention exclusive figure was a really great creation! The bio is fun too, as usual, but will have to be shared later - patience fair readers!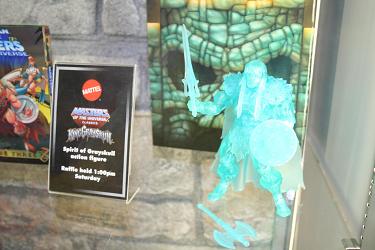 This last image for today is of the extraordinarily rare 'Spirit of Grayskull' figure, which is a clear/blue variant of the Mattel convention exclusive King Grayskull figure which was in super high demand. They informed us that only *2* of these figures have ever been made. One they raffled off Saturday at 1pm, and the other is being saved for a charity auction. At least we got a few shots of it, as you are never likely to see it again!
Posted by charlie on July 28th 2008, 03:52 AM

Share
---