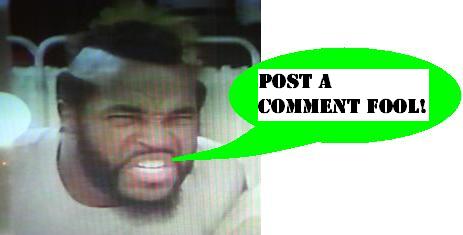 GI Joe Convention
The Uncle
called tonight, with a dilemma. It seems that this year's GI Joe convention is taking place in New Orleans. That's right - I guess it had been planned for quite some time, then the shit happened, but the plans didn't change. Now while it is somehow poetic to have such a convention in what is basically a demilitarized zone, The Uncle had wisely decided not to go, but recent news was challenging his wisdom. Apparently
Sgt. Slaughter
is going to be in attendance, and this was very nearly the breaking point for our friend. He called me, needing advice, and while I'm generally not the best person to talk someone down from doing something dumb, as I come from a position of great weakness on many such topics, I felt I could contribute to this one. An additional point to keep in mind is that if he were indeed to go to the convention, he would then bitch out on a commitment he made to us to go see a Tom Jones concert that same weekend.
I described a scene for him, wherein he arrives in New Orleans, excited, wide-eyed with wonder, enthused, alone, and having just spent at least $300 on a plane ticket, taking a $50 taxi to his $400 hotel, where he would have the opportunity to set up the $270 special edition convention figure set on the hotel room minibar. At the convention, which will probably consist of a giant dealer room, an eating area, and 10,000 excited fans, the breaking point will be the chance to catch a glimpse, perhaps even an audience with the Sergeant, so he would no doubt do whatever was necessary to get in the autograph line. As a prequel to what was to come, I reminded him that it has been many years since the glory days, and we can't be sure how
time has treated
Sarge. After waiting an untold time in that line, he would finally reach the pinnacle, the purpose of this trip, and the reason for the $1000s spent, and the long flight and hours spent. He would shake the Sergeant's hand, and Sarge would look him in the eye and he would know. He would know that The Uncle had sold out his friends, and was there by himself, and had no honor. Sarge would know at that moment, and then The Uncle would know in the next. Dazed and staggered, he would stumble off the autograph stage, towards the front doors. He would walk outside, squinting against the sudden blinding sunlight, and when his vision began to clear, he would see the refrigerators and cars in the trees, the debris of shattered lives, and probably a couple guys in stormtrooper suits, and think about his encounter with Sarge, and it would be more than any man could bear.
I told him all this, wanting to spare him the pain, and I think he understood. Some lessons we have to learn for ourselves though, so we'll see.
Oh, and today's
Internet Aneurysm
was the
only
google image result for "excited fans gijoe".
Posted by charlie on April 20th 2006

Share
---