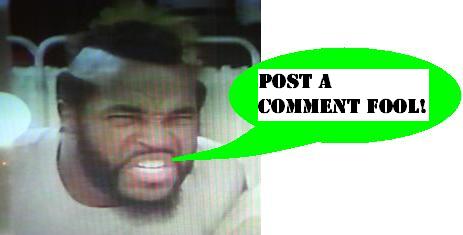 Transformers Universe - Deluxe Starscream
Several days ago we managed to find at the local Target the 5th and most recent wave of
Transformers Universe Deluxe
figures, Smokescreen and Dinobot! These figures are both super cool, and even though Smokescreen is a repaint of earlier characters in the line, the vintage color scheme tugs at the old heartstrings just the way hasbro knew it would! Pictures of these great figures are coming, but let's get through wave 4 first, today featuring Starscream!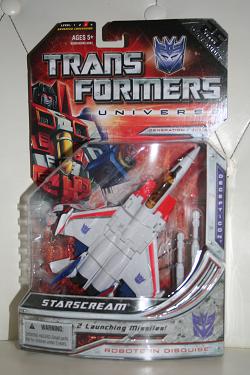 Screamer is always good to see in the line, even if we've gotten this mold already. Who can complain about being that much closer to the set of Seekers? His bio is spot-on, describing him as a powerful foe who is really more of a bully than a tyrant; taking pleasure from dominating those weaker than himself, but fearing a worthy challenge. It's also great anytime
Chris Latta's
irreplaceable voice is given some props, which the bio also does. Click that image above for more shots of Megatron's number two bot, and to read his full bio.
Again, like Hound which we featured earlier, this figure falls under the official '25th Anniversary' header for the Transformers going into 2009, so has a generation key on the package. Here it is!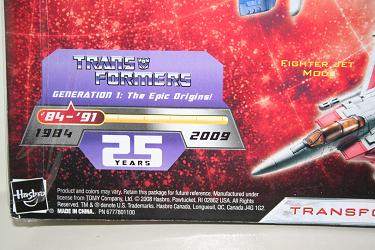 Posted by charlie on January 23rd 2009, 08:30 AM

Share
---