News Details
GI Joe Senior Ranking Officers Crimson Guard Set 2
It's amazing that we haven't quite polished off the GI Joe 25th Anniversary coverage yet, but none of the excellent Toys R Us 3-pack "Senior Ranking Officers" sets had yet made it to the archives! Well, let's start to fix that today, with the Crimson Guard set, complete with red-robed Cobra Commander and everything!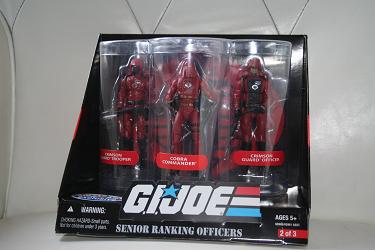 Friend of the Preserve Rudger had called me out on this lack of coverage, so we can all enjoy those gaps which are in the process of being filled in! Now, of course, we haven't been able to track down the new Toys R Us 3-packs, but I am a strong believer of the karma of my toy hunting and the Preserve - once we're up to date, then the shelves shall provide!
Posted by charlie on October 8th 2008, 02:58 PM
Leave Comment
Share
---
No comments have been posted.
---