News Details
Transformers Universe - Tankor
The Transformers Universe line is going strong, and is clearly going to be the source of much joy and adventure in 2009 as we enter the 25th anniversary of this favorite brand here at the Preserve! Up until now we have been very remiss in covering any aspect of this line, even though several of the great new deluxe class figures have been added to the collection. Well, that oversight ends today, with the establishment of the
Transformers Universe wing
of the Preserve, and the first featured figure - Tankor!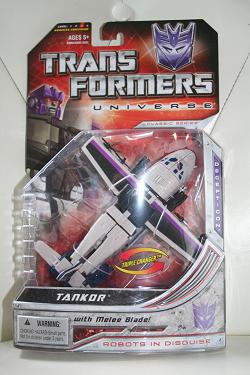 Tankor is an important figure both because he is a triple changer, and because he is the modern update of Octane, a fantastic piece that most of us will remember fondly from the original series. Hasbro sadly fell into the same problem of name copyright, and had to fall back on a non-classic name for this figure, but at least we can all know in our hearts who it is supposed to be! Look for more Transformers Universe updates in the weeks and months ahead, as this line undoubtedly grows like wildfire!
Posted by charlie on October 11th 2008, 11:11 AM
Leave Comment
Share
---
No comments have been posted.
---