News Details
Reactors - Accelereactor-RS1
I have been accused lately of drifting rather far afield from the original and pure mission of the Preserve, which was of course to document and catalog the great toys and games of the last 30 years for the edification and delight of mankind. We have been somewhat overwhelmed by the great products that Hasbro, Mattel, NECA, Mezco and other producers have been turning out to satisfy our pop-culture cravings, to the detriment of the classic coverage. Well, as much re-organization has been going on with the physical Preserve, through my hands have passed so many wonderful classic items that it finally has tipped the scales towards a more fair and balanced coverage mix! Let's kick things off with the addition of a brand new (old) line of toys to the Preserve,
Reactors
by Nasta!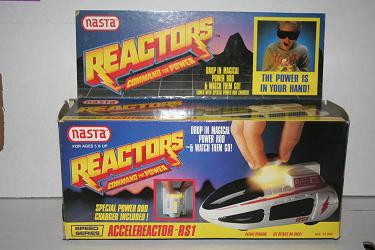 The image above will take you to the page for that item, as always! We have a few more excellent product examples from this line, and are aiming to provide a complete reference eventually but the Preserve collection is, as yet, incomplete. It is possible that the remaining vehicles exist deep within the archives, but they have yet to see the light of the 21st century if that is the case. Remember, the power is in your hand!
Posted by charlie on October 17th 2008, 07:31 AM
Leave Comment
Share
---
No comments have been posted.
---