News Details
Sega Master System - Hang On & Safari Hunt (French)
Let's visit a little vintage gaming excitement today, and we'll do so with a little of the rare along with a little of the common. Hang On & Safari Hunt is one of the 'common' titles in the US market, rarely commanding very much on the current secondary market. While it may possibly be common overseas as well, that it is a 21 year old import from France makes it assume a little more significance and rarity here!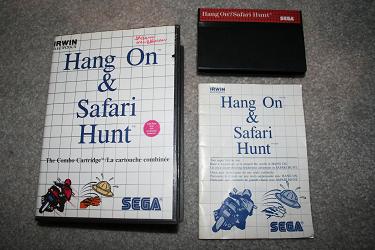 You get two games for one with this cart, and they were very proud of their Combo Cartridge as we can see from the text on the back. Also cool is that Safari Hunt is a Light Phaser title, which were always awesome! It is the 'most complete jungle game ever created' where you can shoot a whole range of exotic beasts! Click the image above for more shots of the physical game and packaging, which is what we like to do around here, and to read the text from the box back.
Remember:
prenez garde aux alligators qui sont à l'affût!
Posted by charlie on October 23rd 2008, 01:47 AM
Leave Comment
Share
---
No comments have been posted.
---