News Details
Hasbro Heroes lines
Finally deigning to order from hts.com for items that we both never expect to see in stores, and also for those that we just wanted to score that 20% off with the FALL20 code, we have a veritable pile of 'Heroes', both of the Combat and the Adventure varieties.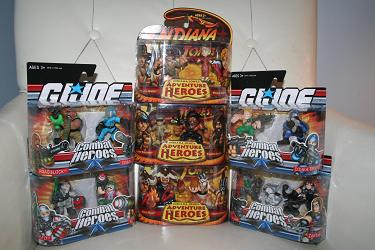 After Hasbro unveiled their new GI Joe Combat Heroes with the
Snake Eyes and Timber Con exclusive
at SDCC 2008 this year, we all waited with great excitement to see what was next, and here they are! With yet another format change to the shape of the packaging, and astonishingly big and bright artwork on the cardbacks, they really jump off the shelves, and let's hope that they sell as well as they look!
The other set in that pic, of the Adventure Heroes, are the three packs that make up the Temple of Doom sub-line. Since the Indy line is done for, and existing Adventure Heroes packs are clogging the shelves along with their 3 3/4" brothers, it's likely that most stores won't make it through their existing stock and will not even order these sets, so the hasbrotoyshop.com seemed like the best route. There are also Last Crusade packs of Adventure Heroes, but those are likely to be the super-rares. If you see them anyplace, be sure to snag them!
Detailed pics of all of these sets are coming in the next few days, so hang on to your fedoras. Look for the Combat Heroes to be hitting your local stores soon, and wave 2 should be out in time for the holidays!
Collector Tip:
The Adventure Heroes packs to really look for are: Indy and Elsa, Indy and Dr. Jones, Vogel and Grail Knight.
Posted by charlie on October 24th 2008, 11:04 AM
Leave Comment
Share
---
No comments have been posted.
---