News Details
GI Joe Combat Heroes - Roadblock and Cobra Commander
Brace yourselves, here comes the first entry in our coverage of Combat Heroes from the new GI Joe Modern Era collection! How long will this branch of the line last, and how many figures will they eventually produce? Will it be like the Galactic Heroes Star Wars figures, which are nearly too numerous to count? Or will we see the continued specter of retail unease, the $7.99 price and a slow holiday season kill these figures before their time? I certainly haven't seen them in stores yet, but let's hope that one more reset is planned before we kick off the Holidays for real.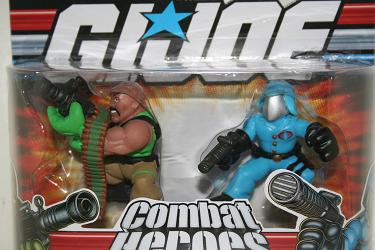 So here they are, Roadblock and Cobra Commander! Click the image for more excellent shots of this set, and be sure to check out the box back - it is just so bright and bombastic, with even larger versions of the character art in all their primary color glory. We really can't say no to these figures!
Posted by charlie on October 26th 2008, 02:22 PM
Leave Comment
Share
---
No comments have been posted.
---