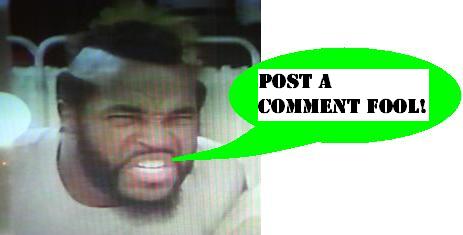 gi joe 25th anniversary partial wave 3
The hunt for the wave 3 figures in the
GI Joe 25th Anniversary
line continues to be an exciting focal point, causing an expansion of the radius of coverage for the search well beyond what had, at one time, been considered reasonable. Within this new radius a goodly KB Toys made it known via telephony technology that they had a 'Master of Disguise' hanging around on the pegs, and that they would stash it behind the counter. An hour and some unexpected back woods main road rush hour traffic later, the following excellence was uncovered!: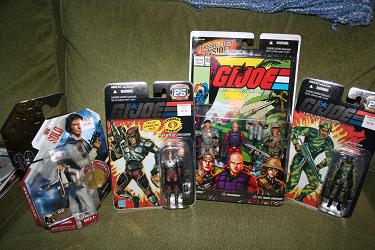 Not only was Zartan hidden away behind the counter, but Stalker also turned up behind two Cobra Troopers (which I probably should have purchased) as well as the sadly standard sight of Storm Shadow and Snake Eyes. It is not the crazy price fetching 'yellow' Stalker variant, but that's fine with me, since it's not for sale either way. Perhaps my continued diligence will pay off in that regard eventually. The additional discovery of an Ultimate Galactic Hunt Han Solo was a nice touch, serving as a solid confirmation that the drive was worth while as far as cool hunt results go.
I also had a chance to investigate every one of the standard big-box stores in this new area, being WalMart, KMart, Target, Best Buy and Toys R Us. While I found basically nothing of note within Transformers, GI Joe or Star Wars (the main coverage series currently), the Toys R Us experience was pleasant and worth relating. Not only did they have three entire isles dedicated to action figures just like the good ol' days, but there was a helpful older dude avidly stocking shelves as I was browsing, who went to great lengths to help me look for Joes.
At checkout, I was met by another friendly fellow who had lots of positive things to say, in particular about their 'Ultimate Toy Drive' for the up coming holiday season. As he put it very well - 'No child should be forgotten at the holidays' and their store is trying to raise $60,000 to contribute to the larger corporate effort! I was more than happy to tack on the $1 they suggested to my purchase of the GI Joe comic 3-pack you see in the picture above. Then, in a perfect holiday moment where my philanthropy is revisited upon me, the friendly clerk asks if I have any McDonalds coupons to use towards my purchase...why I sure do! Having mostly ruined my health and played that dastardly Monopoly game at McDs for most of October, I'd managed to rack up some of their 'instant win' coupons which, awesomely for me, were for Toys R Us! I would have entirely forgotten about them, but it was a magical time at the last great toystore and it turned into a transaction where, I can at least hope, everyone wins.
Posted by charlie on November 1st 2007

Share
---