Air Raiders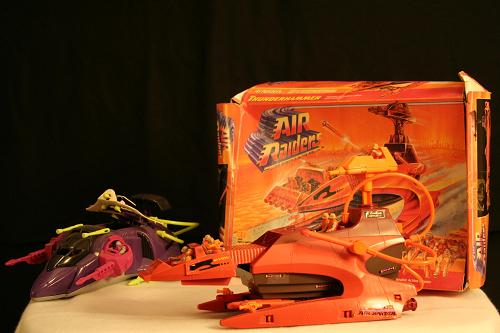 The Power is in the Air!
I often think of Sky Commanders and Air Raiders together, as I believe they both came out around the same time, and both had short lived cartoons to support the toy sales. The Air Raiders had a fun gimick, incorporating an air plunger and various launching weapons and moving parts, powered through a series of hoses and your plunger. I was always glad to see when a series still managed to have firing weapons, since there was, and probably still is, a crusade to make toys as dull and 'safe' as possible so as to not let kids put each other's eyes out.
Series Information
Airlandia! A distant land where air is more precious than gold!
Where the cruel Tyrants of Wind have seized control of ALL THE AIR.
Only the Air Raiders, a band of valiant rebels, dare defy these evil
dictators! With a convoy of air vehicles, these brave heroes battle
the Tyrants, struggling to restore the breath of freedom.
Air Raiders (good guys)




Thunderclaw
(Battle Dasher)
"Thunderclaw never lets go."
Storm Dagger
(Battle Dasher)
"Storm Dagger strikes swiftly, silently and sure."
Tyrants of Wind (bad guys)




Dragonwind

Hawkwind
"Hawkwind screams through the sky!"





Wind Razor
(Battle Dasher)
"Wind Razor slices through air like a knife."
Wind Seeker
(Battle Dasher)
"Wind Seeker's always on the prowl."
---