A virtual museum for toys and video games.
Latest News



1979 Schaper Toy Fair Catalog
Check out this spectacular
1979 Schaper catalog
! This one is full of cool products that I admit I'm largely unfamiliar with, and had a great time learning about them through this book. That, of course, is the whole point of this project!
There really is something different about products from the mid '70s until about the early '80s. It feels like they had some truly cool technology that was a little earlier than it seems it should have been, then we sort of regress back into basic articulated figures for the '80s and beyond, as home video games took over. I like to attribute this to the huge group of Apollo engineers who left the program after the 1969 moon landing and the program ramped down, many of whom perhaps became designers at other companies, like our toy industry. It's a pet theory of mine, but might have some truth to it!
I mean, check out this black hole game
And how about this voice controlled Corvette?
And whatever is going on with this crazy bulldozer farm!
Lots more coolness to see here, be sure to have a look!
Posted by charlie on September 12th 2022, 08:18 PM
Leave Comment

Share
---
Coleco 1980 Toy Fair Catalog
The
1980 Coleco Toy Fair catalog
has joined the Preserve archive, and it really contains some fantastic products!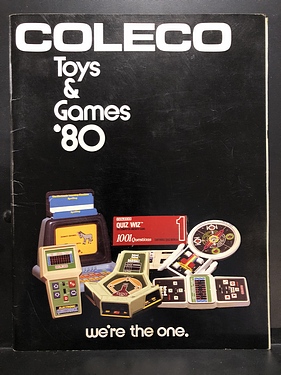 One of my favorites is the Star Trek game, in an Enterprise shaped case!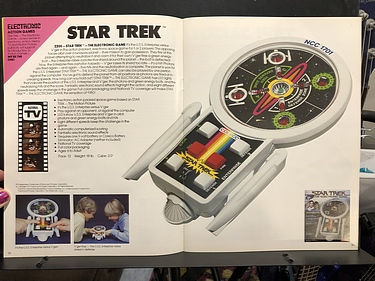 Also feast your eyes on a one-person football game, and an entry in their home unit pinball collection!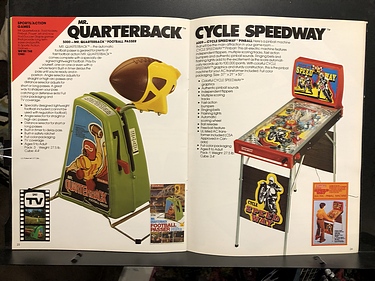 Be sure to see the
full catalog
for more excellent items!
Posted by charlie on September 1st 2022, 06:09 AM
Leave Comment

Share
---
Cadaco Toy Fair Catalog 1997
The
1997 Cadaco Toy Fair catalog
has perhaps the most gloriously 1990s cover artwork that I have ever had the pleasure of witnessing. I am absolutely delighted to unearth this rare catalog and shine the digital light of day on it here at the Preserve, for that reason if nothing else.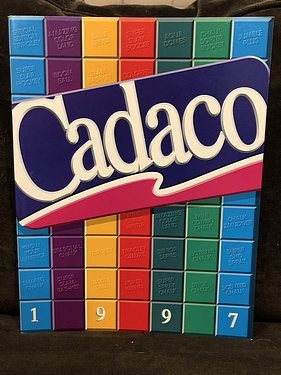 But, in addition to that graphic design triumph, of course it's packed full of the usual Cadaco goodness, like Super Slam Soccer and Super Slap Hockey!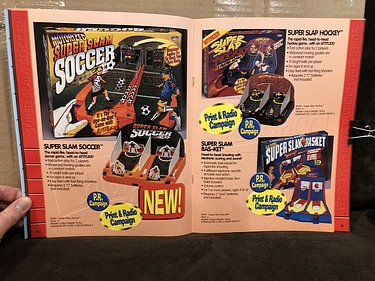 Posted by charlie on December 4th 2021, 12:13 PM
Leave Comment

Share
---
New Catalogs: Irwin 1995, Irwin 1997, Invicta 1980
We are adding lots of catalogs to the
Preserve catalog archive
! In order to make it easy to see what's new, I'll do periodic update posts here with a sample of the new books. Here's the latest!
Irwin Toys 1995
(Spawn and Techno Zoids!)
Irwin Toys 1997
(check out that stencil cut!) (Reboot toys!)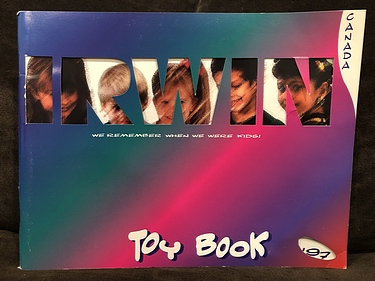 Invicta 1980
(A wild German catalog)
Posted by charlie on September 10th 2021, 08:26 AM
Leave Comment

Share
---
Play Meter Magazine - June 01, 1985
While I am busy building out the modest
Play Meter magazine
archive here at the Preserve, I am already finding the spectacular information that I had hoped to see in these important vintage artifacts. To see what I mean, have a look at the
June 01, 1985 Spring Buyers' Guide
!
What would be in a Buyer's Guide from 1985, you ask? Well, page after page of the 'new machines' that operators were being enticed to add to their routes and arcades, to get that quarter! Click the images below for larger views - spectacular.
And, if you wanted perhaps to see the prices that operators were paying for these machines, look no further than the classified section at the back of the book!
Posted by charlie on August 2nd 2021, 06:00 AM
Leave Comment

Share
---
Captain Power VHS #2 - Final Stand (1987)
Did you know that there were six volumes of Captain Power episodes, released on beautiful VHS tapes by Hi-TOPS in 1987? There sure were! And it's hi-time that we add them to the Preserve! Here is a personal favorite,
Final Stand
which was a chance for fan-favorite (at least this fan) Sven-Ole Thorsen to really shine. Also includes the episodes "Pariah" and "Abyss". The rest of the series, coming soon!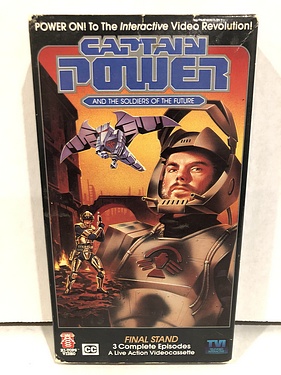 Posted by charlie on June 10th 2021, 06:41 PM
Leave Comment

Share
---
1984 Fisher-Price Toy Fair Catalog
This catalog
is
1984. What an incredible cover! While way shorter than the mammoth Fisher-Price catalogs that would become standard a decade later,
this one
is full as usual with fun and exciting products. Be sure to check out the big Construx section at the end!
I think I actually had every one of these sets - most excellent.
Posted by charlie on May 18th 2021, 06:12 AM
Leave Comment

Share
---
1980 Selchow & Righter Toy Fair Catalog
In 1980, not only did Selchow & Righter, who you may recognize as the company behind both Scrabble and Parcheesi, introduce their famous logo, but they also
unleashed
a whole host of retro-tastic electronic games to compliment their more traditional offerings.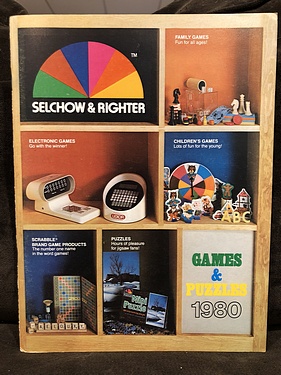 Behold the Scrabble Sensor! The "first space-age word game"!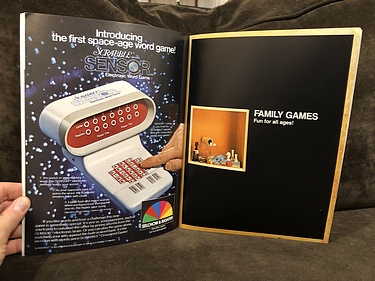 And do be sure to check out their comments on the beautiful new (for 1980) logo!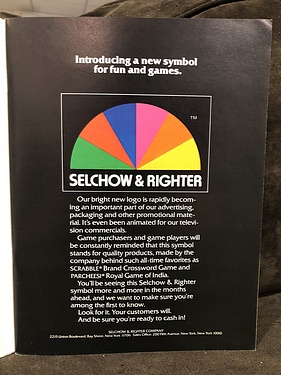 Posted by charlie on April 23rd 2021, 09:05 PM
Leave Comment

Share
---
Toy Fair Catalog - Hello Kitty 1983
I know there are a lot of Hello Kitty fans out there, and hopefully some of them find their way to this cool 1983 catalog! Released under the Child Guidance company, it heralds a new line of products for this famous character for the first time. While history will tell us that Hello Kitty first came to the USA in 1976, this seems to be pretty early still in the introduction of this cat to these shores, so will probably be of interest to a fan or collector!
Posted by charlie on April 18th 2021, 05:46 PM
Leave Comment

Share
---
1984 Arrow Industries Toy Fair Catalog
Arrow Industries, what have they done that I might think is particularly cool? Well, since it was 1984, the greatest year, you can bet that even the
most obscure catalog
will have something super cool.
And you of course would be right! If you had this gumball machine, you were living your best life in 1984. And if you have it in 2021, then it will make pandemic lockdown just that much more bearable!
Also, check out the delightful teaser page for the upcoming Gremlins gumball dispenser. Can you imagine how fantastic it would have been to attend the 1985 Toy Fair!?
"We promise, you won't be disappointed!"
Since we live in the future, we don't have to wait until Toy Fair 1984, we are actually
able to buy
a mint on card Stripe gumball dispenser from Arrow Industries, complete with vintage gumballs, for $27! Will wonders never cease!
Posted by charlie on April 13th 2021, 07:14 PM
Leave Comment

Share
---