A virtual museum for toys and video games.
Latest News



1986 Galt Toys Catalog
I was sold on this 1986 Galt Toys catalog based on the beautiful cover design alone. These guys really had 1986 figured out! To then realize that this catalog is a 150th anniversary issue was really fascinating.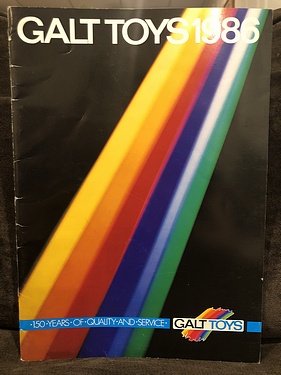 Remarkably, the parent company to Galt Toys, which was Galt Educational, was started in 1836 in Manchester, UK. Rarely do we see a toy company with quite such a distant pedigree! This original company sold classroom equipment, and it wasn't until the much more recent 1961 that Galt Toys was formed as a new division within the company. Then, they were able to bring us a whole array of fun crafting products, to the benefit of preschools everywhere!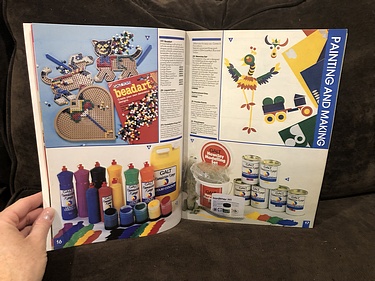 Posted by charlie on April 5th 2021, 10:03 PM
Leave Comment

Share
---
2002 Irwin Toy Catalog
A little research into the
history of Irwin Toy Limited
shows that this catalog from 2002 was an interesting moment in the final period of this long running company. Having been founded in 1926, they fell on hard times in 2001 and were purchased. So, this "it's all new!" slogan was at least an effort by the new owners to make a go of it, hopefully. As so often happens, however, they were then liquidated in 2003, and assets sold off, including their original Toronto factory. Interestingly, it was converted into condos called the "Toy Factory Lofts" which
remain in high demand
to this day!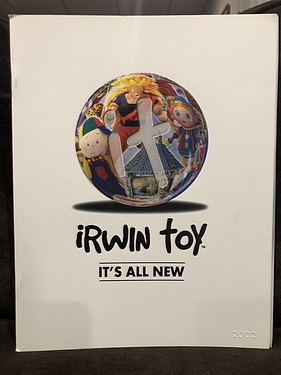 While the company may have been on hard times, their product assortment that year is sure to delight and amaze any Dragon Ball Z fans out there! See the
full listing
for another page of awesomeness!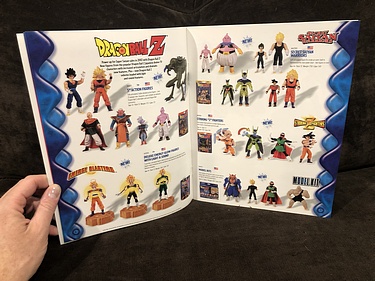 Oh, and let's not overlook that they had an incredible line of Thunderbirds toys as well. Check out that
Tracy Island playset
!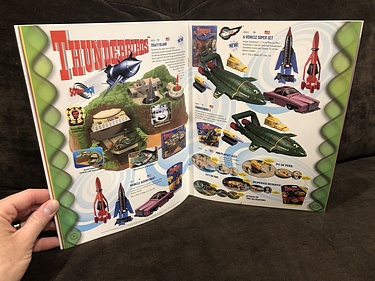 Well, this is why we do this work here at the Preserve. Because there are interesting stories to tell, and these toy lines that many people worked hard to produce every year deserve to be remembered.
Posted by charlie on April 2nd 2021, 10:15 PM
Leave Comment

Share
---
1987 Tomy Toy Fair Catalog
Here is a real gem, absolutely packed with cool products! No foolin'!
I can almost guarantee that if you were of a certain age in the '80s you had one of these little stand-alone driving games. These things are iconic. And, on the opposing page, their R.A.T.S. line which looks fantastic, and which I actually didn't have!
And how about this for fantastic - Omnibot and his brethern!
But wait, there is also an incredible section of Zoids! Check out those figures.
I had one of those kid-size ATVs, but check out Armstrong there! Holy moley!
This really is an exceptional set of products from Tomy, making 1987 a memorable year for all of us. Subsequent catalogs of theirs, even the following year, seemed to change tone significantly, so thankfully we can all review and cherish this one!
Posted by charlie on April 1st 2021, 08:27 AM
Leave Comment

Share
---
Tomy 1989 Toy Fair Catalog
The parade of catalogs continues, with an entry from Tomy in 1989.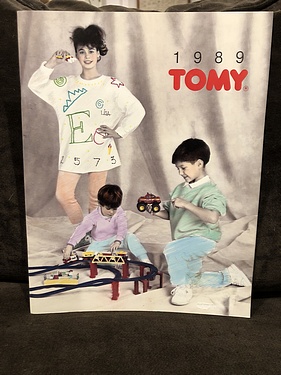 Mostly containing playthings for pre-school age kids, we do get a fun entry of the Rip Rock'n Rollers, "The ultimate power and performance vehicles to ever Hit the Road"! (wow!)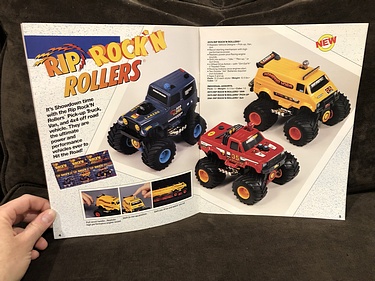 Posted by charlie on March 29th 2021, 03:34 PM
Leave Comment

Share
---
Ohio Art Toy Fair Catalog 1987
Next up is this bold
Ohio Art toy fair catalog
from 1987. Perhaps best known for their noble etch-a-sketch, this company actually released a whole host of cool products.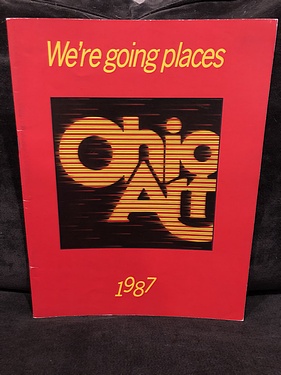 One of the more obscure may be this digital version of their popular tablet, which somehow would animate the drawings you did! I admit that I never had or saw one of these, but if it even came close to working that sounds super cool!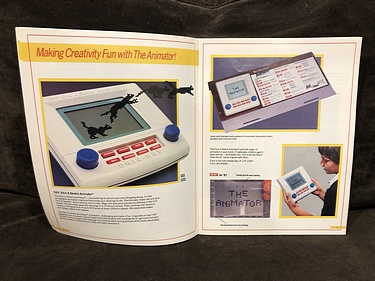 Posted by charlie on March 26th 2021, 11:44 PM
Leave Comment

Share
---
Lakeside 1984 Toy Fair Catalog
The next catalog in our
Toy Fair Catalog
collection is from Lakeside in 1984, the greatest year!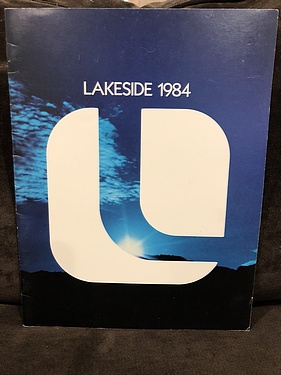 I think that one needs look no further than the inside cover, the first product page, where we see Mr. T's Water War! What a glorious product, and you can be sure a highly prized item these many years later!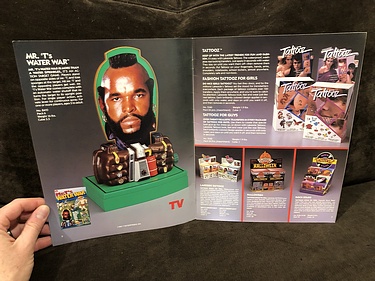 Posted by charlie on March 24th 2021, 06:43 AM
Leave Comment

Share
---
Sky Commanders - Vector Command
A thing of beauty is a joy forever.
That's what I find myself thinking with so many of the oversized playset vehicles of the '80s, and
Sky Commanders
Vector Command
is solidly up there in the pantheon.
This defender of the High Frontier graced the headboard of my childhood bed for many years, fastened securely with that clamping mechanism, allowing Battle Track Roadways and Laser Transport Cables to be extended across the room to neighboring chairs and bookshelves, so that the Sky Commanders and the Raiders could duke it out for control of the rare Pheata Seven!
Posted by charlie on March 12th 2021, 08:11 PM
Leave Comment

Share
---
Sky Commanders - Rollerball Backpack
I sure do love
Sky Commanders
. Here is the Rollerball backpack, piloted by the leader of the team, General Summit! Click through for more views and the bio. Thank you 1988.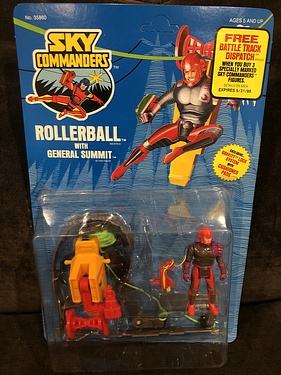 Posted by charlie on March 7th 2021, 12:48 PM
Leave Comment

Share
---
Bluebird Toys Catalog 1998
Are you, or is someone you know, a Polly Pocket collector? Well, check out this
1998 Bluebird Toys catalog
! I had no idea the range was so large, so it's definitely going to serve as a great checklist to peruse the many pages of this fun line.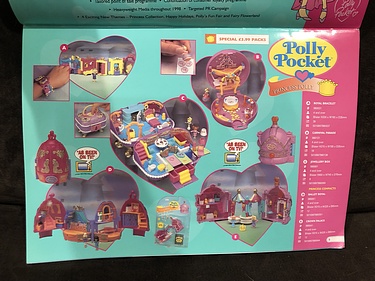 Also, check out those 'Bluetech' handheld devices! That is absolutely the best of 1998!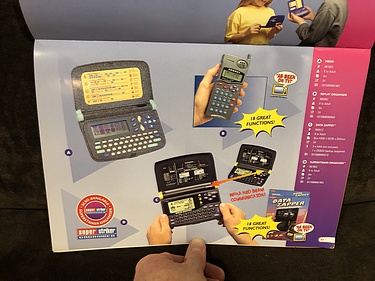 Posted by charlie on March 1st 2021, 09:56 PM
Leave Comment

Share
---
Captain Power - Lt. Tank Ellis
I love Captain Power. I always have, since the first time I shot at targets during the live-action tv show on Saturday mornings with my XT-7 Powerjet, up through more recent times when I became a Babylon 5 fan and learned the Straczynski connection. Heck, Tank makes the show cool all on his own, being a friend of Schwarzenegger with bit parts in nearly all of his movies, along with a large and awesome role in
Mallrats
, still my favorite Kevin Smith movie!
It is surprising and also inexcusable, therefore, that I had failed to post the
Lt. Tank Ellis
figure to the Preserve
Captain Power archive
for these many years. Well, that's finally remedied!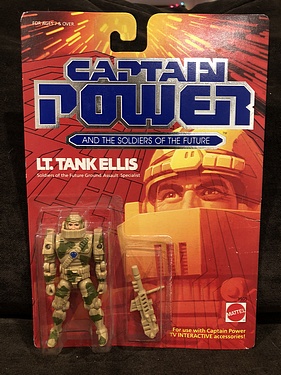 Posted by charlie on January 1st 2021, 12:56 AM
Leave Comment

Share
---