Preserve Movie Review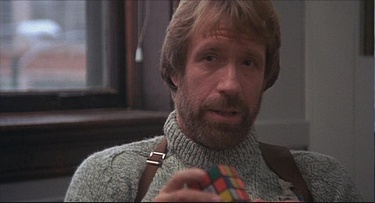 <-- Return to main Movie page.
Movie Title: Code of Silence
Movie Rating: 4 / 5
Runtime: 101 minutes
Release Year: 1985
Movie Review:
Considered by people who know to be the best example of a Chuck Norris movie from the height of the genre in the 1980s, this good-cop-stays-good story is one for the record books. Norris of course plays himself, a no nonsense honest cop who sticks to his values in the face of near certain death, or at least dirty looks and no support from his co-workers. Of course his high ideals prevail (spoiler alert!) after he kicks a lot of butt, with a robot! Definitely check this one out. Here are some handy notes!

- fantastic 80s bass line driven soundtrack by David Frank
- chuck norris doesn't need a partner!
- ed-209 esque police robot
- norris drives a beat up trans am
- re: computers - 'the modern ages answer to the crystal ball!'
- says Chuck's well-meaning friend: 'eddie I want you to meet a couple friends of mine...this is Ruth, she's a dental hygenist...very oral. this? this is Marleen, she works for a proctologist, don't turn your back on her.'
- Chuck enters the bad guy lair: 'if I want your opinion I'll beat it out of you'
- pinball sightings! great shot of Chuck standing infront of both 'Frenzy' and 'Playboy', awesome!
- Dick Jones-esque presentation - 'this concludes our demonstration - if you have any questions, our factory representative will be happy to answer them'.
- Bob Shelley and Bob Shelley jr. appear in the credits, and are father and son, having worked on the special effects (assistant and foreman). In IMDB ol' Junior got left out, and it lists Sr. twice. A little research uncovers another movie for which Bob Shelley is a special effects foreman - ghostbusters!
---