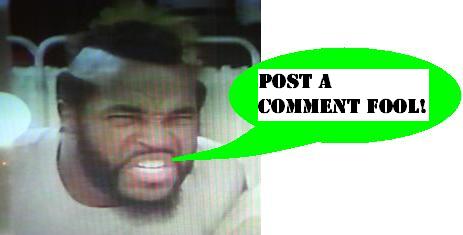 Toy Fair 2008 - day one results
Check out the latest image galleries from Toy Fair!
Just in case it is hard to imagine what the scope and nature of this show is like, and how it might be seen as being overwhelming, I present the following: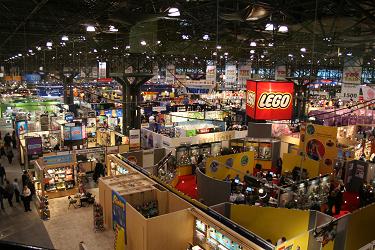 Now, realize that you see in that picture an incomplete view of a single room of the event, and that there are two other rooms like this one. It is really the most epic thing one can imagine, and it is an honor to be covering it as best as we can. In all of this madness we met a nice person who is working to get her company off the ground, so we wanted to give her a plug. Go check out
Super You
, where your child can create their own costume and super hero identity, which are then sent to them in a super cool package! It seems like an idea that is just about to take off, and we wish her the best of luck!  
Tuesday morning the Preserve has an appointment for a one-on-one meeting with Hasbro, and the pictures you are all waiting for will flood in at that point. In the meantime, entertain yourselves with a look at the entire new line of
Lego product
, and all of the other great companies covered over on our
Toy Fair roundup page
. I wanted to make sure that everyone sees the new Lego Indiana Jones sets - they are really fantastic!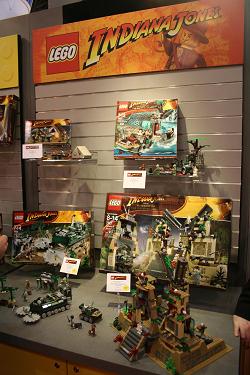 And as a bit of a tease, because we haven't gotten the full NECA gallery up yet, here is the much talked about, excitedly awaited Dread Pirate Roberts!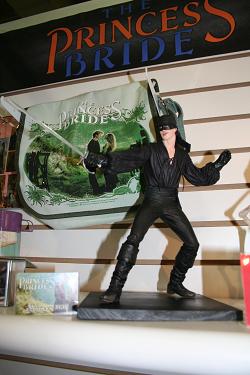 And...oh my lamb! Is that a prototype Machete (
Danny Trejo
!) figure??? It sure is!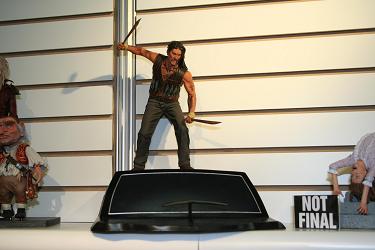 Lastly,
The Uncle
weighs in with his thoughts on the sights, sounds, and a great product from this first day of toy fair.
---
The 2008 Toy Fair located at the Jacob Javitz center in New York city features a truly mind boggling number of sights to take in and product to see. Simply put, there is too much to write about and report back on given the time constraints! With this in mind, I would like to write a small update on one of the cooler items featured in the show, the return of Madballs!  
I remember having several original Madballs back when I was very young. They seemed to be so popular that I actually remember getting knock off smaller versions of Madballs from the fifty cent plastic egg machines located on the way out of the local supermarket! It turns out that the original line of Madballs consisted of two series of eight balls each, along with 3 deluxe items. I distinctly remember owning a green madball (most likely from the second series) with a metal plate nailed over one of the eye sockets. Someone with a better handle of the Internets would be able to find a picture, but not me!  
Nearly 22 years have passed since Madballs graced the hallowed shelves of retail stores, and I am thrilled that they are back! The first series of six is currently available in what I like to call the "Nerf aisle," and features five of the classic Madball designs along with one newcomer Repvile. Then there are 3 deluxe Madballs that have to be seen to be believed. These feature a hollow ball inside of the Madball exterior filled with various unpleasant items from spiders to worms to brains, that come gushing out when the deluxe item is squeezed! We have a couple of before and after pictures for you to get an idea of how these work. Super repulsive and super awesome, no child should be without one!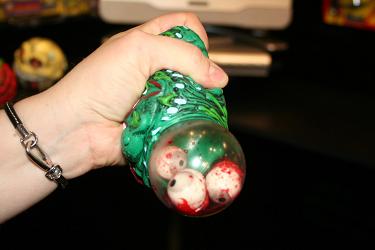 The regular Madball that I picked up goes by the moniker Skull Face. Continue reading for his biography: "Life advice from Skull Face: 1) moving too fast may stretch your face and melt off your skin. 2) Staring directly at the sun may burn your retinas and discolor your eyes. Hmm…think that's experience talking?" Skull Face sounds like my kind of guy, er ball, er grossly disfigured shrunken head. Charlie managed to pick up another character from series one, the aptly named Bash Brain. FUN FACT: Bash Brain's original name was Crack Head, proving that even something with a clearly exposed Cerebrum is not immune to the cold hard fate of political correctness.  
Lastly, our contact let us know that Series 2 should be arriving sometime in March with the same spread as the first series with six regular Madballs (five classic designs plus one new member of the pack) and three new deluxes. Be sure to check out the clear marquis piece of the line complete with firing eyeball! They also revealed what looks to be an eyeball shooting cannon! Dust Brain, it's been too long.
Posted by charlie on February 18th 2008

Share
---