Journal Archives from September 2022
1979 Schaper Toy Fair Catalog
Check out this spectacular
1979 Schaper catalog
! This one is full of cool products that I admit I'm largely unfamiliar with, and had a great time learning about them through this book. That, of course, is the whole point of this project!
There really is something different about products from the mid '70s until about the early '80s. It feels like they had some truly cool technology that was a little earlier than it seems it should have been, then we sort of regress back into basic articulated figures for the '80s and beyond, as home video games took over. I like to attribute this to the huge group of Apollo engineers who left the program after the 1969 moon landing and the program ramped down, many of whom perhaps became designers at other companies, like our toy industry. It's a pet theory of mine, but might have some truth to it!
I mean, check out this black hole game
And how about this voice controlled Corvette?
And whatever is going on with this crazy bulldozer farm!
Lots more coolness to see here, be sure to have a look!
Posted by charlie on September 12th 2022, 08:18 PM
Leave Comment

Share
---
Coleco 1980 Toy Fair Catalog
The
1980 Coleco Toy Fair catalog
has joined the Preserve archive, and it really contains some fantastic products!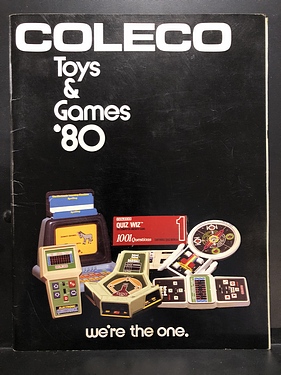 One of my favorites is the Star Trek game, in an Enterprise shaped case!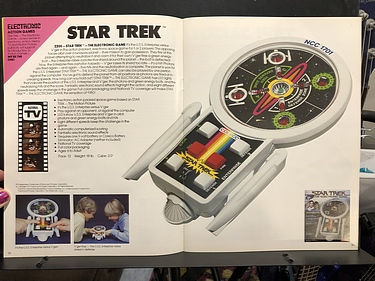 Also feast your eyes on a one-person football game, and an entry in their home unit pinball collection!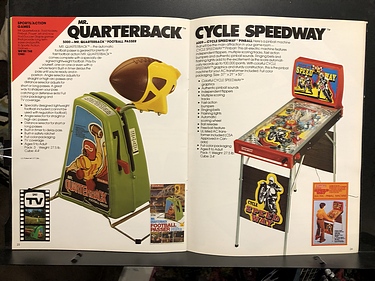 Be sure to see the
full catalog
for more excellent items!
Posted by charlie on September 1st 2022, 06:09 AM
Leave Comment

Share
---