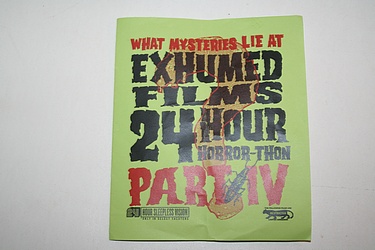 Well I'm about 12 days late with it, as usual, but I'm finally getting around to typing up the post mortem (heh) of the massive 24 hour movie event from my scrawled-in-the-dark notes. I missed a few of the first trailers, as I wasn't totally in synch with my eventual goals, but here at least are the movie choices along with the 'hints' that let us all try to guess the titles ahead of time, immortalized for 2010!
12:15 PM- The History of Slashers Trailer Compilation, Part I: The Beginning.
Set included Maniac, Terror Train, Friday the 13th, Halloween, It Came From Upstairs...
12:30 - Movie #1: Nightmare on Elm Street 3: Dream Warriors
Hint: Silly slasher sequel that is not nearly as good as the original, but is still pretty entertaining.
2:00 - Movie #2: The Mighty Peking Man (Rolling Thunder print)
Hint: Giant monster movie.
3:30 - Movie #3: Tales from the Crypt 2 aka The Vault of Horror (BBC Version)
Hint: Nifty, creepy horror anthology.
5:00 - The History of Slashers Trailer Compilation, Part II: The Heyday.
Set included Friday the 13th Part II, My Bloody Valentine, Halloween 2, The Prowler, Hell Night, Student Bodies, Happy Birthday to Me, He Knows You're Alone...
5:15 - Movie #4: It Lives Again
Hint: Campy creature feature sequel that may actually be a little bit better than the original.
6:45 - Dinner and Trailers: Death Valley, Visiting Hours, Wacko, Alone in the Dark, Friday the 13th III 3D, Curtains, Friday the 13th IV The Final Chapter, Friday the 13th V A New Beginning, Psycho III, April Fool's Day, Friday the 13th VI Jason Lives, Halloween 4, Halloween H2O, Scream 3, Halloween Resurrection,
7:15 - Movie #5: Dawn of the Dead (1978)
Hint: Zombie movie.
9:00 - Trailers / Short Film: Fall of the House of Usher (film)
9:30 - Movie #6: Return of the Aliens: The Deadly Spawn
Hint: Goofy, gory horror/sci-fi exploitation flick.
11:00 - Movie #7: Phantom of the Paradise
Hint: The movie that "The Rocky Horror Picture Show" wishes it could be.
12:30 AM - Movie #8: Five Element Ninjas (Ren zhe wu di - Shaw Bros.)
Hint: Holy F**king S**t. The Greatest, bloodiest kung-fu movie of all time. I don't even know what else to say. I just...I mean. This...this movie is...holy f**king s**t...
2:15 - Movie #9: The Funhouse
Hint: Sleezy slasher movie directed by a genre favorite.
4:00 - Movie #10: The Howling
Hint: Tongue-in-cheek monster movie classic directed by a genre favorite.
5:30 - Movie #11: Boardinghouse
Hint: Supernatural shocker that is so utterly ridiculous it must be seen to be believed, and even then you probably won't believe this movie exists in our universe. Maybe the most inept movie Exhumed Films has ever screened. Could be this year's Raw Force. On the other hand, could just as well be this year's Draculs vs. Frankenstein....
7:15 - Breakfast Break: I was pretty gone by now, and then Mr. Magoo showed up! Also we got Vampire People, Brain of Blood, Blood Demon, Bride of Blood, Mad Doctor of Blood Island, Curse of the Vampires...
7:45 - Movie #12: Friday the 13th Part II
Hint: Influential slasher sequel that many people feel surpasses the original.
9:15 - Movie #13: Bug (1975)
Hint: "Animals Attack" movie with a snazzy sci-fi twist.
10:45 - Movie #14: The House by the Cemetary (Quella villa accanto al cimitero)
Hint: Historically, the horror-thon has always ended with a zombie movie. I guess this film counts. Kind of...
You did it! You made it through the entire marathon! It actually was running late, as they usually do, and the last movie started well after 10:45, but so much the better!
---