"It's Harder to Win When you Play by the Rules!"
This movie opens like a thunderstorm of awesomeness, and it powers on for 96 minutes. During that opening is a rap song performed by, of course, Mr. T. In the very first scene Mr. T ('Bruise' Brubaker in this movie!) disarms a 15 year old with a ghetto switchblade as he's trying to hold up the elderly owner of a boombox store. The first we see of Bruise is his duct-taped up shoes, that we learned all about in Be somebody! (Sadly, he is missing his gold changes in this movie however).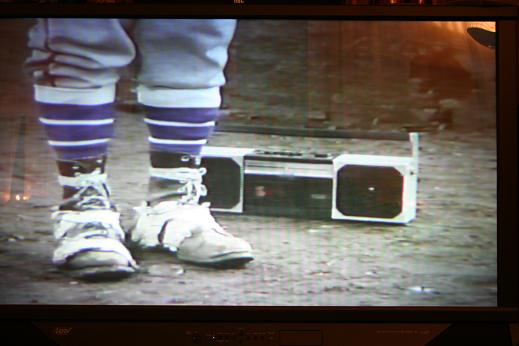 The street outside the holdup features a fine display of breakdancing - a requirement in any low-budget 1984 film.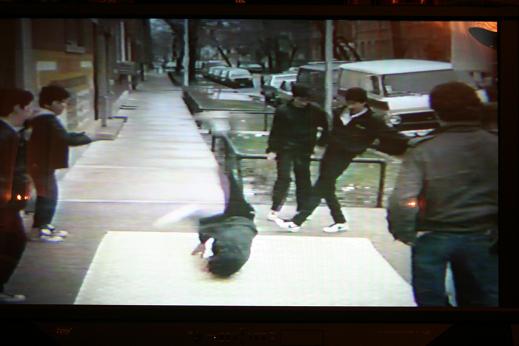 After verbally reprimanding the kids for the error of their ways, Bruise refuses to return the knife of the head kid Billy - the future foil for his well-meaning attentions. He makes the kid a deal that he can have his knife back if he comes to the youth center the next day. We shortly come to learn that Bruise has taken over running a youth center, which seems to be a loose collection of kids that hang out in someone else's gym in a really bad part of town, and that he really has no sense for anything other than telling kids to be strong and stay in school. As a result of Bruise's well meaning the center is broke and about to shut down. Ah, we have a plot! So he needs to come up with $25,000 in a matter of days.

Billy actually shows up at the youth center, where Bruise is coaching his kids for an upcoming basketball championship.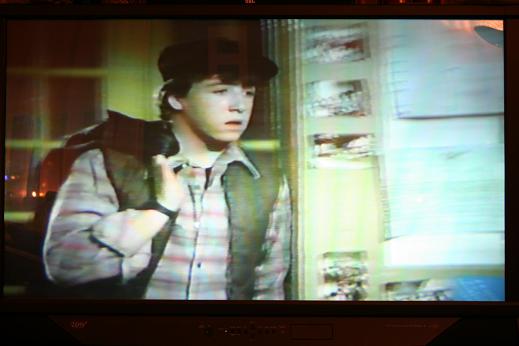 Bruise realizes that Billy is actually a good basketball player, and blackmails him further by withholding the knife to get him on the team. More useful than Billy's sports skills turns out to be his ability to count to 5 and read the mail, two things that we later learn poor old Bruise isn't very good at. It's then decided that Billy is to help Bruise figure out a budget for the center and a fund-raising scheme to get the cash and fast! Bruise offers to let Billy stay at his place, and we get to see the amazing apartment that's full of weights and pictures of his Vietnam buddies. The internal consistency across Mr. T's roles really is one of the best parts of his already lusterous career.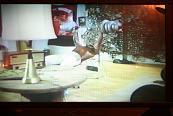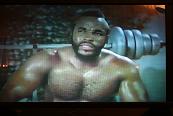 To support this awesome lifestyle, it turns out that Bruise is a bouncer at a 2nd rate night club, where he wears a tux and generally struts around and looks awesome.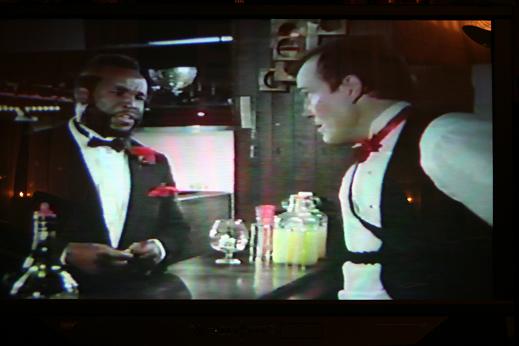 During his shift, he is called upon to throw out the current Toughest Man champion, Tanker, who is drunk and causing trouble.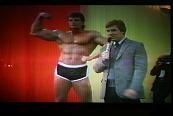 Of course Bruise has no problem, and he does it with words and not violence! Live those values Bruise!

Back in the youth center plot, Bruise has donned yet another awesome suit and is trying to talk to the mayor about how important his center is, but is being blocked in his efforts by The Man.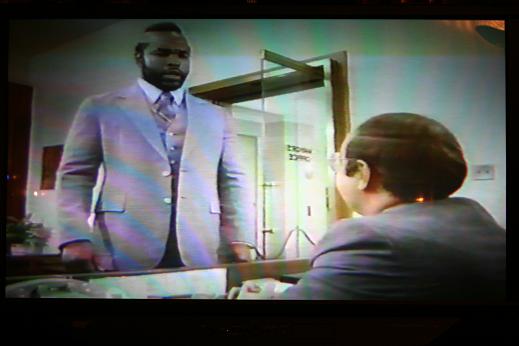 After 4 days of waiting and trying to get into the mayor, Bruise takes a more direct approach and kicks down the mayor's door.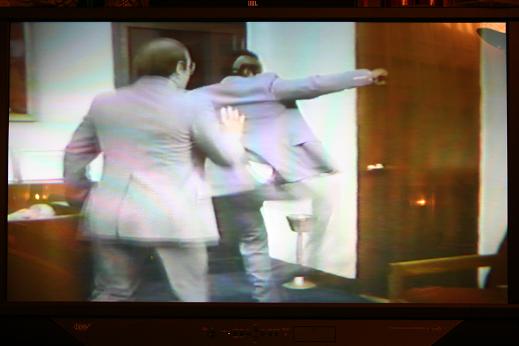 His luck finally runs out and the cops give him some time to think about his destruction of public property, so the female manager of the gym where his kids loiter comes to bail him out, setting up a pseudo-love-interest for Bruise! This makes for some awkward moments, clumsy flirting and Bruise picking out his mohawk and clutching some flowers in eager anticipation. (While tending to his 'fro he explains to Billy that he styles his hair like that out of respect for his heritage in the Mandinka Tribe! Anyone who is a fan of Be Somebody, or Be Somebody's Fool may proceed to go crazy at this point.)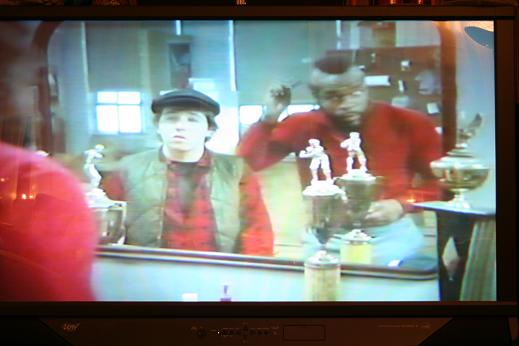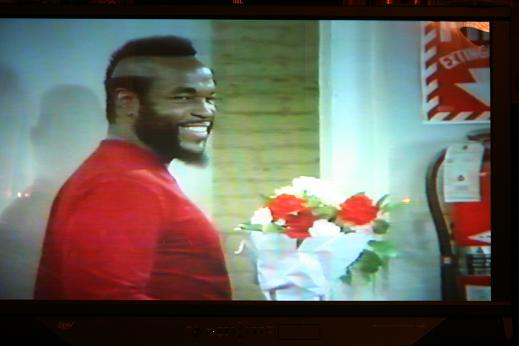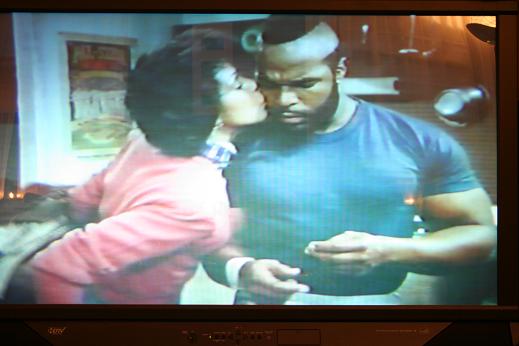 With Billy's advice, Bruise and the kids decide that they should hold an event and sell tickets to raise the money. All the kids set about selling tickets to the event, and Bruise even lines up Tanker to do a forced appearance (a deal made with Tankers manager when he was kicked out of the club to keep the cops away).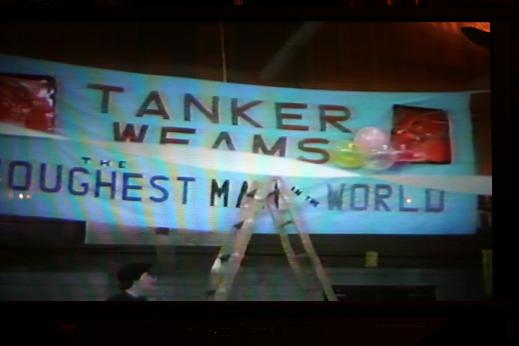 Everything looks like it's going to work out, the youth center will be saved! Bruise will get the girl! His message of responsibility and not-mugging-old-men will take hold of all his young pupils! But then the cops show up and we realize that Billy has been selling tickets to disreputable folk in batches of 100 or more, with a guarantee that they'll win the valuable door prize. You see, it turns out that Billy had been a young number runner for the local kingpin,




as he wasn't receiving much support from his prostitute mother (seriously). Earlier when Bruise had met the guy and his goons he made sure to trash them, and his limo, and told Billy to stay on the straight and narrow. Now with the ticket fiasco it seems that Billy has reverted to his old ways, causing Bruise to freak out and have an awesome oscar worthy scene condeming his life choices. Billy immediately goes back onto the streets, having been turned out by Bruise, and takes up with the kingpin and a certain life of crime!

Now that the benefit event is tanked, the only way for Bruise to save the youth center is to enter the Toughest Man competition!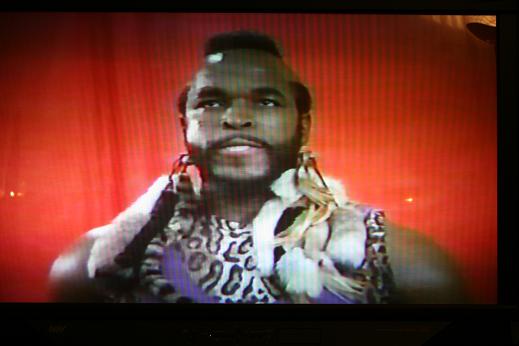 If he wins the competition he'll get a prize of $100,000 which will keep the center open for 4 years! Then I guess he better hope that he wins it again - but no matter let's go! Of course we get some intense 1980's training-montages, with lots of weight lifting and growling!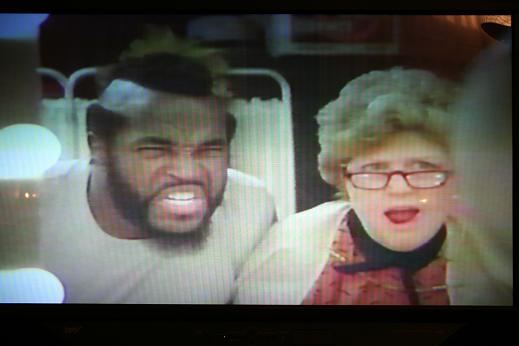 I love this pic because it reminds me of the interstitial scenes in Mike Tyson's Punch Out.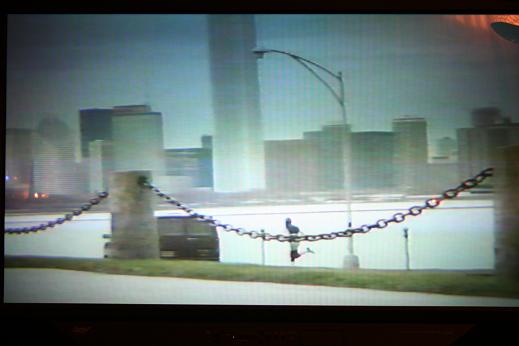 The competition takes place over several days, and includes some excellent and grueling events. It's really too hard to describe the tournament itself except that it's like a low budget 1984 version of American Gladiators.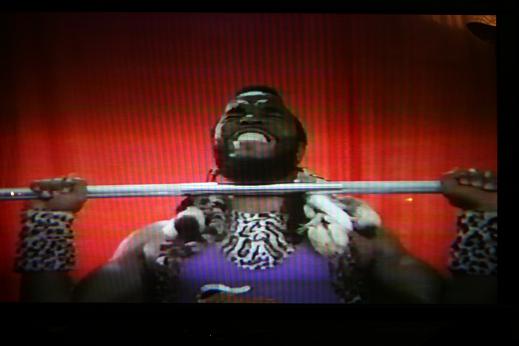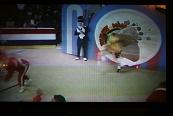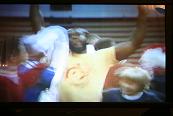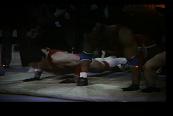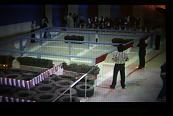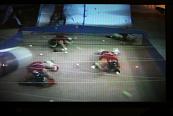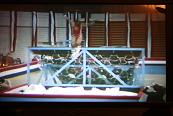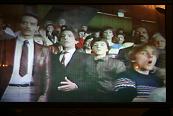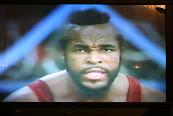 The final day of the competition is drawing near, and the kingpin has of course devised a money-making plan and gotten ol' Tanker to fake a neck injury, so he can fix the odds all over town. Fearing that Bruise might actually beat Tanker anyway he gets Billy to make a distress call to Bruise so he'll come running right into a needle with some magic red loosing-potion.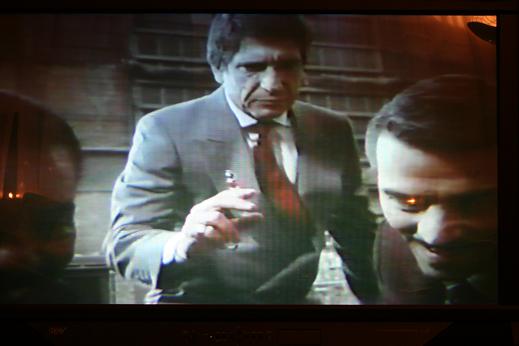 Of course Bruise goes running to help Billy, ever the optimist, and a big brawl ensues, where Billy again realizes that the life of crime is wrong and the life of blissful and musclebound na´vety is the right way to go! After thrashing the badguys with the help of his 98 lb manager and a schoolbus full of 11 year old basketball players, Bruise takes great delight in dropping a wedding cake on the villain.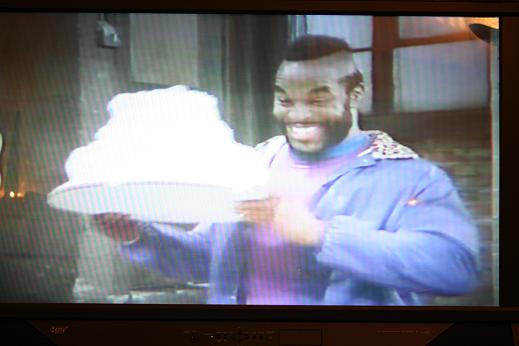 The movie's about done now, so the review's finished too - you really have to go get a copy of this for $2 on ebay. Just go.