News Details
Sega Master System - E-Swat
It's been some time since I last added a new
Sega Master System
game to the Preserve archives, so today is a fun day indeed! Not only is this a new addition to the digital records, but was a hole in the physical collection as well, so is twice the fun for one money.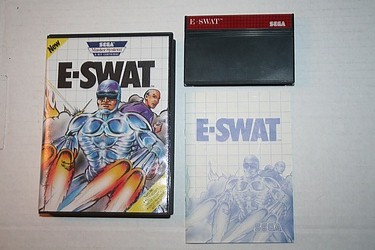 In typing up the game description from the back of the box, I noticed with some amusement that it seems almost to have been written by two different authors, the second of whom was fantastically
out there
:
Standard By-Committee text:
You're staring straight into the evil E.Y.E., a power-mad horde of vicious terrorists. But you are the ultimate crimebuster. Decimate their front lines with your lead-belching Gatling gun! Incinerate their mobs with your super-charged arsenal of weapons! Start as an E-Swat rookie and blast your way up to become an awesome supercop...More machine than man!
Unhinged Janitor Late Night Additions:
Metal attack! Annihilate killer hovercraft maniac machines and flame-throwing robots. Grapple with bionic monsters to face the final showdown! Stay glued to your weapons through 5 missions of grueling combat! You have the ultra-tech gear and the guts to survive! The E-Swat force is waiting. Are you ready to "Hit The Streets"?
And remember, as Axel Foley says -
These guys aren't just cops....they're supercops.
Posted by charlie on December 7th 2010, 08:20 AM
Leave Comment

Share
---
No comments have been posted.
---