News Details
Nasta Reactors - TransEuro
Anyone who reads the Preserve with a semblance of regularity has heard me carry on about the little known
Reactors
line from 1989 by Nasta. Well, as you can see from the
checklist
I still have not completed my quest of assembling and photographing all of the American released vehicles in this set, but there has been a significant development in the Preserve Reactors collection!
Shortly before the holidays of 2010 I was tipped off to a euro-ebay auction that sported a pile of Reactors in alternate euro-packaging, the likes of which I had never even imagined! Add to that the revelation that several of the items featured were not even in the Preserve in their US released personas. When the price proved to be a bargain (though they were a bargain at twice the price!) the answer was clear - get them on the slow boat to my distant land! And a slow boat it was - just as I started to believe that it had all been a dream, a box from France has arrived. A box that appears to feature stylized line-art of french fries ("macfries"), no less, to my great amusement! I haven't had time to photograph everything properly, but I wanted to sail into the weekend with that story, and with this, a teaser picture of things to come!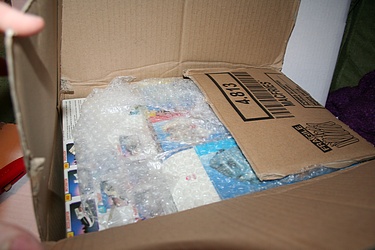 Posted by charlie on January 28th 2011, 10:37 PM
Leave Comment

Share
---
doctorkent
January 31st, 09:28 PM

NOOOOOOO!!
I wanted to see them NOW.
But really, super happy you got them. Almost another ultra-rare line completely cataloged. I'm going to play with these when I visit the Preserve, just to see what fascinates you so about them.
Kusa
May 7th, 07:35 AM

May I please find out the wonderous website that you where able to order and work on your collection from? While I am not an avid collector of all toys... I did have a few of these when I was much younger and they where sadly lost in a number of ways. (One was even run over by a bus ;_;) Needless to say as I've grown I still miss my reactors and would like to try and collect as many of them as I can.

Thank you very much!
cparry
May 9th, 06:50 AM

It is an honor and a pleasure to meet another Reactors fan! I'm very sorry to hear that one of your old collection was run over by a bus!!

I've had a very hard time locating the pieces of this line, and this particular box was a great set that I found on eBay France. I think your best bet is to keep a standing search on ebay for this line, and it seems that the Italian or French sites might tend to have even better listings than the US.

Best of luck! Write in to let us know if you have success in your hunt.
---