News Details
Transformers: Dark of the Moon - Preview Optimus
I returned to Preserve HQ this evening to discover a surprise package from our press buddies at Hasbro. What was inside? Why, the first and only preview figure from the imminent new Transformers line to support this summer's third live action movie!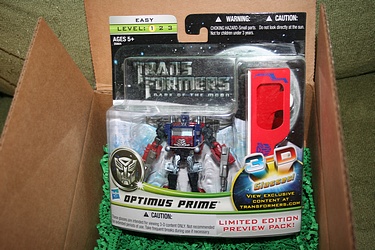 The first wave of figures will be hitting stores in a coordinated blast on May 16th, though some stores have gotten this limited preview Optimus Prime ahead of time (as they were supposed to). Since my lame local stores have not, it was a welcome surprise to get to see this figure at last! This version of Prime is from the new Cyberverse label, and is 'Commander' scale, which is sort of what 'Scout' is becoming going forward. Conveniently it even comes with some great 3D glasses, so you can see exclusive content on
transformers.com
- or feel like you're at a screening of Freddy's Dead in 1991! I think for the upcoming Dark of the Moon movie, though, I'm going to spring for the
Optimus Prime 3D mask
- pictures of me wearing that at the preview will follow in the fullness of time.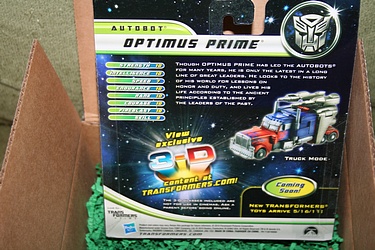 I'll open him up soon, but wanted to get the post done as soon as possible. Also Hasbro wanted to remind you all about their
16 Weeks of Cyber Sweeps
contest which will keep the excitement high until the movie hits theaters on July 1st!
Posted by charlie on April 27th 2011, 06:12 AM
Leave Comment

Share
---
doctorkent
April 27th, 08:39 PM

I'm curious to see how nice this is. I just don't like that they are now going to push this smaller size like there is no tomorrow. I already have 2000+ figures in a larger scale - I'm not starting over. And knowing how every scale change ever works, they'll make something unique that is only ever released in this scale, like a first-ever Devcon or something.

Ah well. More money I can save for Glyos purchasing, I suppose.
cparry
April 28th, 05:55 AM

I can't imagine starting over in this scale - for sure. I figure that if they release a character that you simply must have, you will be able to work him into your continuity somehow, regardless of size.

One wonders if the shrinking scale is due to rising materials, transport and manufacturing costs? Not hard to imagine, at least.
doctorkent
April 28th, 09:14 PM

Phil Reed over at Battlegrip reviewed Scout class Sunspot from last year, and made a good point: what was the real difference between a Scout and a Deluxe? Really, not much. An articulation joint here and there, paint at times...so I think what Hasbro is trying to do is give you a different experience for the money. People would rather have a $10 item, so now you have that $10 item as a Deluxe class, or one of these Cyberverse tiny guys with a base.

Plus, remember one of the tenets of toy lines. It is always easier to sell another Optimus at any scale than an Arcee.
cparry
April 29th, 05:54 AM

Ok, I can see the truth of it.

Also, your theory (which is sound) about being able to sell an A-list character in any scale vs. a more obscure (yet awesome to collectors) character is a seemingly sad but true fact.
---