News Details
Masters of the Universe Classics - Swiftwind
Certainly one of the greatest things about the increasing success of Mattel's Masters of the Universe Classics line is the ability for them to pepper in larger figures several times during the year. Also delightful is their embrace of the She-Ra universe, which many fans - whether they admit it publicly or not - are most assuredly into. 2011 brought us several key characters from this companion show, but also the delightful figure of Swiftwind! They even released a re-tooled and updated She-Ra who is able to properly sit astride her noble steed, so all is now well with Etheria!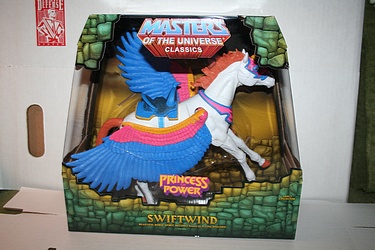 Posted by charlie on January 3rd 2012, 08:19 PM
Leave Comment

Share
---
No comments have been posted.
---