News Details
Army Gear - Combat Bars / Strike Tank
I certainly don't cover everything here at the Preserve (that's the job of the other site) but there are a few little lines from which I take great pride and enjoyment in finding the rare item here and there. One of those lines is
Army Gear
, and in particular the line of transforming Combat Medals that were an often overlooked part of that line. So today, we have the Combat Bars / Strike Tank set! Click through the image below to have a look at this vintage adornment you've likely never heard of!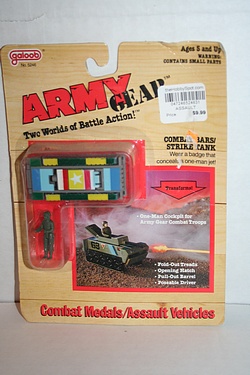 Collect them all - wear them - play with them!
Posted by charlie on January 10th 2012, 02:18 AM
Leave Comment

Share
---
doctorkent
January 10th, 08:13 PM

How many more do you need, boss, to complete Army Gear? I know Ben is reading this - maybe he has the extras.
cparry
January 10th, 08:48 PM

Well, according to the all important 'cross-sell' on the back, it looks like I still need the two ribbons - the ones that were modeled after those which would hang from a small strip of cloth...those must have been the rare type...heck maybe not even produced!
Bahglenn
January 11th, 07:28 AM

I've NEVER heard of these things. It's always amazing to me how after years of toy collecting there's still always new stuff to discover. Cool looking like, looks like it could have been very fun to play with.
Ben
January 11th, 07:40 AM

I have extras, just not of these. For some reason, these various medals are the toughest pieces to find in the entire line. I have a whopping two in my collection, both bought for a buck on the original card at two different locations in PA in the last two years.

I have multiples (though their completeness is in question) of the M-16, the grenade, the canteen, the larger knife, the searchlight...but these little medals are annoying. I'm amazed you have as many as you do, Charlie!
cparry
January 11th, 07:40 AM

Well then, it pleases me to have brought this to us, Bahglenn! Also - I'm glad it's so rare...I grow weary of covering things that 55 other people have already ground into the dust!
cparry
January 11th, 07:43 AM

It definitely took a while Ben - I've been patiently watching eBay for about 8 years for these things specifically - I know you and the good Doctor routinely hit a lot of pretty decent toy shows, though, so it's interesting to hear that they are likewise missing from those.

What seems to be even more rare, now, is one of my other favorite lines - Reactors! Haven't seen one of those come up in over a year.
Bahglenn
January 11th, 10:05 PM

Oh yeah, it's these little oddball toylines that make the really interesting entries.

Reactors?! Now that's a toyline I have a memory of: the Tractor vehicle from that line was on clearance at my local Toys'R'Us for quite some time. I remember seeing them in the early 90's & they were like 50 cents each or some other ridiculously low price. I always wanted to know how the reactors really worked LoL.
---