News Details
eBay Watch - Gadget Mobile
It's something of a disaster, how fond I've lately become of the 1993 Inspector Gadget figures. In particular, the Gadget Mobile, which is proving to be as rare and exciting to search for as the famous Snarlie Narlie! While several beautiful boxed examples have passed through our digital fingertips over the past year and change, here is a loose example that comes with Yellow Gadget, and still selling for $300! Maybe I just need to watch a few episodes of the show and clear my head - it's probably been 15 years since I have, if it's been a day!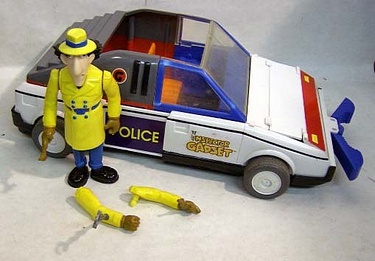 Posted by charlie on May 14th 2012, 09:28 PM
Leave Comment

Share
---
Hotspot17
May 16th, 07:03 AM

I always wanted the gadget mobile as a kid.
cparry
May 16th, 07:08 AM

It seems so cool and mysterious to me, to this day! I've never actually seen one in person, so the extent of the transformation is still massive and elaborate in my imagination, even though that probably is nothing like reality.

Of course, the super inflated price helps to add to the air of mystery - we all have to have those 'grails' to search for!
---