News Details
Movie Night - Tammy and the TRex
Tonight the movie line-up was many and varied, and well worth sharing I believe.
The night started off with a bang, watching 1/2 of the summer Grindhouse spectacular, with Rodriguez's
Planet Terror
. It's packed with awesome actors, many from the Greatest Decade who don't see time on the screen much these days, so is well worth the time.
Next was a real gem of a horror movie, if it can so be called, known as
The Breed
. It basically involves the usual teen-douchebags (yes that is Michelle Rodriguez) going to a secluded place, and getting into deadly trouble! What makes this movie particularly awesome is that the deadly trouble is caused by mostly friendly looking dogs, who are tricked into growling now and then for the camera, with an ostensible sub-plot that they were genetically engineered super dogs designed to be deadly and brilliant. We all kept waiting for LL Cool J and the sharks to turn up.
Next was a little known movie featuring some real Preserve favorites.
Slipstream
evokes feelings of '80s awesomeness and of
Blade Runner
in particular, even including one totally obvious reference. What makes it shine though is the presence of Bill Paxton and Mark Hamill, among other greats. The android in this movie may be a little more refined, but he sure struck us as some sort of British pleasure model, and the likely fan fiction with Pris makes the head spin.
The very best way to make an intermission awesome is to make it consist entirely of one half-hour episode of
Jayce and the Wheeled Warriors
. The theme song alone is worth the price of admission, and will be stuck in my head for at least another few hours. I really have to determine the studio band that did that recording, because they certainly sound like the exact same team as the minds behind the 'Dream Warriors' song from
Nightmare on Elm Street 3
.
The final film for the night was, I believe, the most awesome, and was one I'd been trying to get people to watch for ages. Seen as a preview before another questionable movie, perhaps
Terminal Rush
with Don "the dragon" Wilson and Rowdy Roddy Piper, I had been excited to finally see
Tammy and the T-Rex
since I found the tape for $2 at Hollywood video some months ago.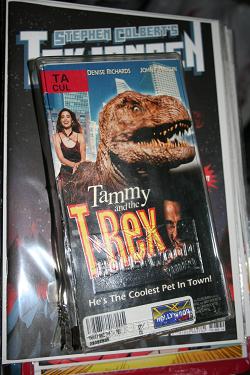 Staring
Denise Richards
, there's not much of a way to describe it beyond the following:
  Her boyfriend is injured by a rival for her affection, and his body is stolen and destroyed by a mad scientist, who places his brain into a mechanical Tyrannosaurus Rex which then reeks havoc, seeks revenge, and finds true love.
The last three minutes of the movie are entirely awesome, featuring surprises that have to be seen to be believed. While this isn't a 'good' movie by any means, it's squarely in the zone where the Preserve likes to be, and if you are in tune with us here, you'll probably enjoy it also. Check it out if you have the means.
Posted by charlie on December 1st 2007
Leave Comment

Share
---
change
December 1st

Now I have to see Tammy and the T-Rex. And Paul Walker is in it too.
---