News Details
Transformers - Salvage
Creating the entry for the new Transformers Deluxe figure of Salvage was a real delight, as not only did it have the obvious G1 reference to "Sparkplug and Son", being of course
the two humans
from the original and beloved cartoon, but the bio makes it clear that it is a direct reference to the fantastic 1970s show
Sanford and Son
!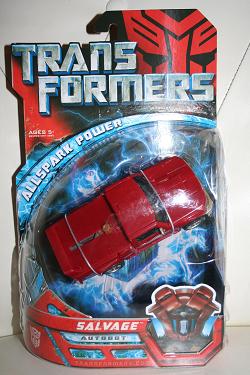 Most kids who may buy these toys totally won't get the reference, unless they spend as much time watching obscure re-runs as I did growing up. Though, I have to imagine that weekday afternoon re-runs consist less of Hogan's Heroes, What's Happening and Sanford and Son as they do of some 1990s flotsam. Well, at least TVLand is keeping the dream alive, and you can usually catch Redd Foxx being awesome most any day of the week if you are diligent. So click on the image above, and check out the bio for Salvage - if you're a Sanford fan, you'll get a kick out of it.
Posted by charlie on May 19th 2008, 01:51 AM
Leave Comment

Share
---
No comments have been posted.
---