News Details
Voltron Patent Application
I recently discovered an intriguing patent application, titled
Composite toy vehicle assembly
. It sounded boring enough, but when I opened it up in the fantastic Google Patents application, what to my wondering eyes should appear but what seems to be the state-side patent for the 1985 Panosh Place Lion Voltron!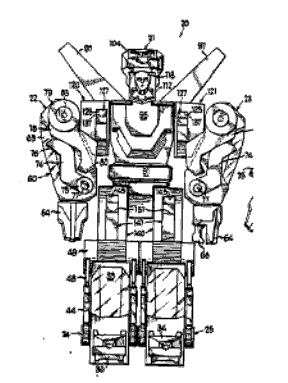 In fact, it appears to go further than just the Lion Voltron and try to patent the 'gestalt' combiner figure in general! I'm no patent expert, of course, we'll have to call on a friend of the Preserve who worked in the actual Patent Office for that one. Spurred by this discovery, I proceeded to hammer on Google Patents a little more for any Transformers, Hasbro or related patents, and came up largely empty handed. More research is required, but I wonder if companies have begun to restrict their patents from showing up (though I thought they were public domain). Perhaps I am searching incorrectly, but it certainly seems that at least a few products that we all love around here should turn up in their legal 2D forms. The search continues!
Posted by charlie on August 31st 2008, 09:22 AM
Leave Comment

Share
---
No comments have been posted.
---