News Details
Indiana Jones - Target Clearance
I appreciate a good sale as much as the next guy - heck maybe even a little
more
than the next guy. That's why the screaming clearance special that Target is running on the new Indiana Jones figures (remember that they were nearly $8 for a while), that we discussed here a few days back, is so bittersweet. Sure I can't pass up the bargain basement prices, especially when I was able to complete the Last Crusade collection for the Preserve by scoring
Elsa
for less than I'd have paid were it more widely available. But still, to see this on toys is never a good thing: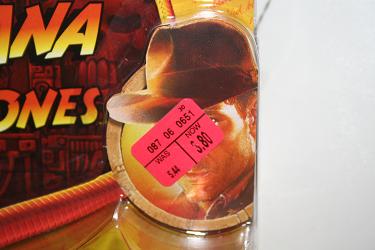 ...since it always means trouble. Such great placement of the tag too - no respect! Or, given the respect it is due?
Sure you expect to see it happen to most movie tie-ins, but we all hoped for more here. At the end of the day, I guess it's just another Speed Racer, Hulk or Superman cousin, finding the way to the bargain bin. I'm sure that somewhere in this great land, someone has been able to score the Temple of Doom wave at Target lately, and we salute you!
One more point about the later waves - along with the poor performance of the new film, something that really hurt these figures was the very low quality control of the initial waves. You were more likely to find an Indy or Sallah with his "eye on his cheek" rather than a proper paint job, it seemed. This of course turned off a lot of the collectors, and people would paw through stacks of figures to find the few that looked reasonable. Ordering on line then became even more unpleasant, as you were unable to pre-examine your figures, and so customer sentiment fell further and further.
The buzz, to the contrary, had been that the Last Crusade and Temple of Doom figures had corrected these problems, and in spades! They are lauded as some of the finest work Hasbro has done in ages, and as such makes it that much more painful that the line is ending. I was struck by how solid and careful the paint work is on our Elsa figure, so wanted to finish with a nice close up, supporting the claims that Hasbro got their act together, though only too late! Click this image for a hi-res look (the pic makes her look a little lazy-eyed, which isn't actually the case).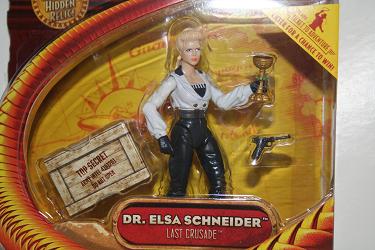 Posted by charlie on December 20th 2008, 11:22 AM
Leave Comment

Share
---
No comments have been posted.
---