News Details
Sega Master System - Alien Syndrome
A popular 1986 arcade game with a rockin' awesome marquee topper,
Alien Syndrome
brought the franchise ripping-off fun of Aliens directly to your neighborhood arcade, and then thanks to Sega's Master System, to your living room straight from 1988!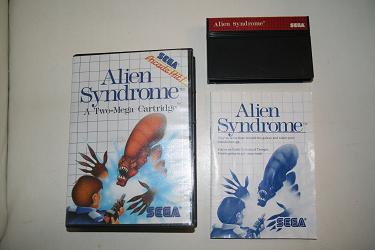 This, like
After Burner
, is another title that was released after the rights to the Master System had been sold to Tonka in that very year of 1988, you'll notice the Tonka brand all over the small print. They take great pains to point out that the trademarks are still owned by Sega, but they also want you to know that they make more than bright yellow scale construction trucks for boys. And yes, of course, there are not a few of those in the Preserve as well!
Many people credit Tonka with the failure of the Master System during this period, as they had no experience with managing a gaming console and were in over their head. However, it is also put forth that Nintendo was just more mercenary in their cornering of the market, and had so many 'exclusive' contracts with third-party manufacturers that there was little left for a competitor. Given all that, Tonka did a fine job it seems! In 1990 Sega took the rights back to make the seldom-seen Sega Master System II, but that's another story.
Posted by charlie on December 30th 2008, 11:08 AM
Leave Comment

Share
---
No comments have been posted.
---