Preserve Favorite People!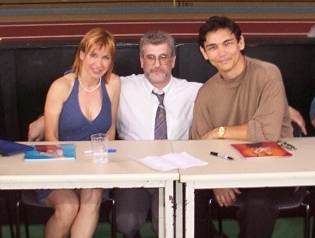 Movie / TV People
Crispin Glover - Best known as Back to the Future's George McFly, one of many big budget roles that he tries to distance himself from, it is his independent work and lesser known films that are solid gold [pic].
Cynthia Rothrock - five-time World Karate Champion in forms and weapons between 1981 and 1985, and awesome martial-arts action movie star!
Don "The Dragon" Wilson - champion kickboxer and star of many fantastic B-grade action movies that are favorites of the Preserve.
Kirk Thatcher - will forever be remembered as "punk on bus" from Star Trek 4, but is also a talented puppeteer and worked on many movies, from Star Wars to Muppets in Oz.
Mr. Alan Spencer - creator of Preserve favorite show Sledge Hammer, and possessor of razor sharp social commentary with a witty candy coating all these years later. [pic].
Game People
Alan Hewston - first and only person to ever achieve a perfect game of Atari 2600 Pitfall! [pic]
Jamie Young - Key Grip for the live action footage in Night Trap, also was a Grip for The Fifth Element.
Sid Meier - Responsible for the computer game Civilization, consumer of many hours in high school. [pic]
Toy People
---