Toys 'я' Us Stores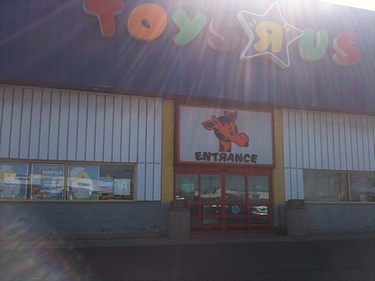 These stores have always been very magical to me, as to a lot of the readers of the Preserve I figure. The buildings themselves are so classic and unique, representing a rapidly vanishing era that we all remember so fondly. It occurred to me last weekend (March 12, 2010) that I wanted to try to retain pictures of the stores I manage to visit. Contributions to this archive are welcome, and very much hoped for! Email contact(at)parrygamepreserve.com if you happen to snap any store pictures, and I'll add them to this archive.
---
Amherst, New York
[#9223]
March 26th, 2010.

Retaining the classic trapezoid entry, but sadly the color bars have been lazily painted white. The Geoffrey entry sign is still loud and proud! I'm particularly happy about the up-close doorway shot with the appropriately reverent light. Also check out the color bar mural on the inside wall which makes up a little for the lack of color outside. Finally, there was a classically decorated semi trailer out back, looking somewhat like a permanent feature - definitely a beautiful sight.
---
Clay, New York
[#7517]
March 13th, 2010.

This store retains both the perfectly painted colorbars as well as the huge Geoffrey head and Geoffrey welcome sign!
---
Greece, New York
[#9225]
March 27th, 2010.

I have never seen a TRU in a strip mall - until now! The outside was unconventional, but the interior was recognizable as basically the same as other 9000 series stores in western New York.
---
Horseheads, New York
[#6363]
March 14th, 2010.

Sadly the iconic colorbars on the outside of the store have been painted white.

I have always loved the little security rooms where all of the expensive things are kept, like video games and these days ipods I suppose. In speaking with the guy behind the glass, he told me that they are a vanishing feature, apparently falling prey to store updates that at least held off for these many years. I guess it's an inefficient system, but for me it's the only way to experience getting a shiney new NES game.
---
Williamsville, New York
[#9224]
March 26th, 2010.

Another store lacking some of the original glory due to the painted-white color bars on the front, we do still get the Geoffrey entry sign.
---