News Details
Lego Brickmaster - May/June set 20008
It's been a while since we actually added any products to the Preserve archives, but today it is definitely high time to catch up with our Brickmaster subscription! They threw us off a little by skipping product numbers, 20011 in March and now 20008 in May, but we have another excellent Lego Creator Brickmaster Exclusive set for you! This isn't just an average tow truck, this is clearly one of those beefy big-rig jobs that you see towing other similarly massive vehicles down the road. In other words, when your semi breaks down, this is the vehicle that gets you to the shop! Click the image for a little more product info and pictures of the set and the member exclusive magazine that accompanied it.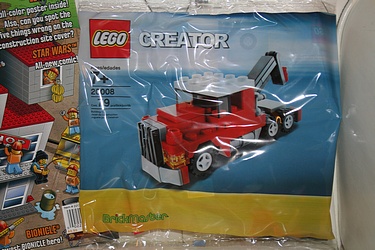 Posted by charlie on June 7th 2009, 09:09 PM
Leave Comment

Share
---
No comments have been posted.
---