News Details
Transformers - Revenge of the Fallen: Rampage
Continuing our run-up to the release of the new Transformers film this Wednesday, I wanted to post another figure from the brand new Revenge of the Fallen toy line from Hasbro. This time we have Rampage, a bulldozer in the construction motif that is permeating this new line, thanks to the presence of the fan favorite gestalt Devestator! Rampage has a pretty gritty bio and vastly unbalanced stats to match. Click the image below for the full story!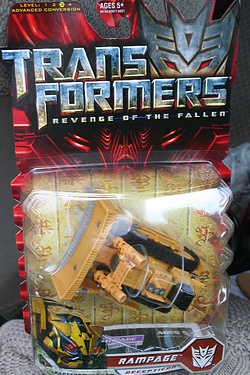 Posted by charlie on June 22nd 2009, 09:56 PM
Leave Comment

Share
---
No comments have been posted.
---