News Details
Transformers Animated - Waspinator
Originally introduced in the Transformers Beast Wars show, the Predacon Waspinator is the fall guy and comedic relief of many an episode. He found renewed life in the Transformers Animated series as a former comrade of Bumblebee who goes berserk and turns Decepticon. Always good to see an old popular character reintroduced in the current line, still with that edge of madness all the fans love, he was a great addition to the series. Click the image below for more packaged shots and his full bio and abilites!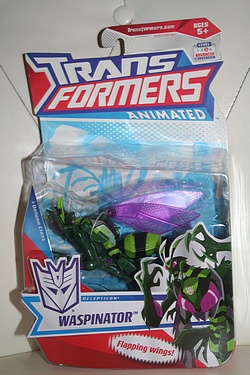 Posted by charlie on July 12th 2009, 07:27 PM
Leave Comment

Share
---
No comments have been posted.
---