News Details
San Diego Exclusive - Baroness!
Huge thanks are due to our G.I. Joe press contact at Hasbro for sending out one of their spectacular 12" Baroness figures, which will be one of the crown jewels of their exclusives roster at next week's San Diego Comic Con. We won't be able to attend the show this year, but this was on the of the things we were most bummed to miss - now here it is in the archives for us all to enjoy! They've done a really fantastic job on this figure, both with the figure itself and the amazing 'propaganda' poster that it is packed with. Even the case itself is a work of art. Anyone who is attending the show should be certain to brave the hours in line at the Hasbro booth, this figure is worth it. Click the image below for some more close-up shots.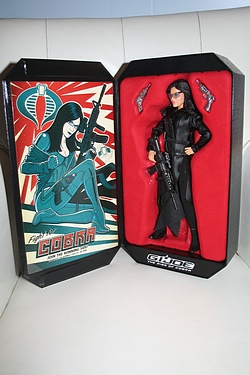 Posted by charlie on July 20th 2009, 02:07 AM
Leave Comment

Share
---
No comments have been posted.
---