News Details
Barbie 50th Anniversary - 1986 Barbie and the Rockers
This year Mattel celebrates the 50th anniversary of their marquee brand, Barbie. Back at Toy Fair we were able to snap some shots of their
impressive Barbie room
, which really launched the celebration in grand style.
Maybe I'm put in mind of this figure as a result of the great Baroness we posted yesterday - in many ways Barbie and the Rockers also epitomized the 80s! The tribute figure from this era is, in fact, the 1986 Rockin' Barbie, and it's glorious in the color scheme, fashion and box art. Click the image for a larger look, and we'll hopefully get a gallery up of the rest of the images soon!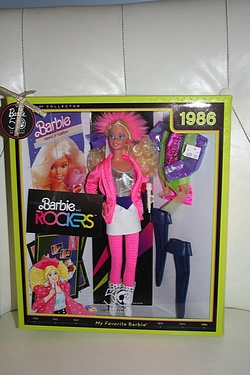 Posted by charlie on July 21st 2009, 08:59 PM
Leave Comment

Share
---
No comments have been posted.
---