News Details
STARCOM - Sgt. Bill Travers
Harkening from 1986, the S.T.A.R.C.O.M. line is a semi-well known fantastic space series with a rich set of figures, and a great batch of vehicles and space stations making up the line. The figures have retained a good eBay value, and we're happy to have a number of them in the archives as originally purchased at the Flourtown PA KMart! Today we wanted to feature Sgt. Bill Travers - click his image for more details on this Laser Gunner!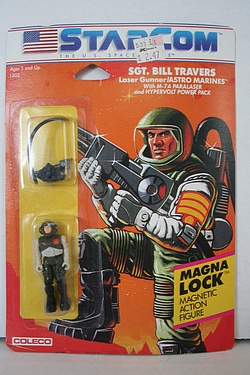 Posted by charlie on August 6th 2009, 07:42 AM
Leave Comment

Share
---
No comments have been posted.
---